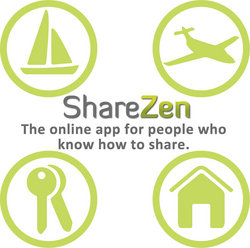 Until now, shared owners have had to cobble together ways to track and manage all the details.
Bellingham, WA (PRWEB) October 20, 2010
Company founders today announced the launch of ShareZen, an online application that makes it easy for people to manage shared assets by offering them a simple system for scheduling use, tracking shared expenses, keeping up on maintenance and fostering owner communication.
The application is currently geared toward shared ownership of planes, boats and vacation homes – three popular categories of large shared assets in the rapidly growing "sharing economy." Spurred by economic and environmental concerns, asset sharing has increased exponentially as people realize the potential for cost savings, environmental conservation and access to more and higher-quality assets or products.
"This is the decade we learn to share," said Neal Gorenflo, publisher of Shareable magazine. "We've entered the age of access versus ownership. Platforms like ShareZen.com, CouchSurfing.com and RelayRides.com show that people are willing to share their most valuable possessions with others."
But managing a shared asset presents challenges – including coordinating schedules and use, making sure assets are maintained on schedule and expenses are shared equally, and communicating problems, changes or other information between all owners.
ShareZen solves that problem by providing a comprehensive but simple framework for owners of a shared asset. Once owners sign up for a membership – ranging from free for single owners to $39.95 per month for large groups – they use simple tools to coordinate all aspects of their shared asset.
"Some things are just better when they're shared," said Drew Bernard, a co-founder of ShareZen. "But until now, shared owners have had to cobble together ways to track and manage all the details. We designed a powerful but easy-to-use online solution that handles all the details so everyone can focus on enjoying the things they love, with people they trust."
About ShareZen
ShareZen is based in the Pacific Northwest. It was founded by three seasoned startup veterans with a vision and a whole lot of talent. The service is provided through ShareZen.com and is available on a subscription basis. ShareZen's mission is to make owning and managing shared assets such as vacation homes, airplanes and boats more enjoyable and easier than ever.
###