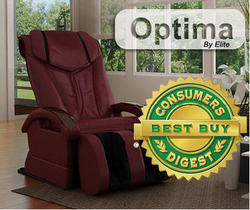 "Customers... don't just want a device that feels good while you're utilizing it: they want a therapeutic massage experience that will improve how they feel all day long." - Blair Hayes
Evergreen, CO (PRWEB) October 18, 2010
Elite Massage Chairs, based in Evergreen, Colorado, maintains its reputation for quality with its newest personal shiatsu massage chair, the Elite Optima, which was the recent recipient of A Consumers Digest Best Buy award.
The Elite Optima represents the fruition of years of intensive massage research and mechanical application resulting in the most cost effective, deep tissue therapeutic massage recliner in the industry. Elite only incorporates attributes that deliver proven circulatory stimulation. Featuring a sophisticated human like movement torso massage mechanism, a 12-point mechanical dual calf and foot massage, innovative 3-D body scanning technology, back and seat heat and vibration all backed up by a 5 year parts and labor warranty, the Elite Optima is the proven leader in delivering hi-tech modern massage chair therapy.
Consumers Digest magazine is designed to provide opinions and recommendations so that customers can save time, save money and buy with confidence.
In order to be eligible for consideration of a Consumers Digest Best Buy, a product must be commonly available on a nationwide basis, it must have a national network of dealers for support and repair service, it must be made by a manufacturer with an established reputation, and the product must be available for at least 6 months after the publication date of the issue that would feature said product.
A Consumers Digest Best Buy is a product that merits special attention from consumers based on its combination of performance, ease of use, features, durability, warranty, efficiency, styling, and maintenance and servicing requirements. Of the products considered for this award, fewer than 3% meet the quality and value standards required by the editorial staff.
"Obviously, the list of requirements is very exhaustive in order to be considered for this award. It really is a gauntlet you have to run, to be given a Consumers Digest Best Buy award," says Blair Hayes, the Managing Member of Elite Massage Chairs, "we are extremely proud of the accomplishment, and we are humbled that Consumers Digest chose to honor us with an award. We are also pleased to know that the Optima won the award in the prestigious 'Premium Selection' massage chair category."
Among the reasons why the Elite Optima was awarded the Best Buy among premium massage chairs: the Optima is designed to accommodate users who weigh up to 300 pounds—15 pounds more than what any other chair that the staff of Consumers Digest found can handle.
The Chair has a 9 inch automatic extending foot and calf mechanical massager. Additionally, its mechanical foot massage unit is more intuitive, and covers more surface area than most other massage chairs.
Finally, the Optima offers what Consumers Digest refers to as "a rare music function: it will sync its massage motions to your favorite tunes if you plug in your portable media player, phone, or CD player to the chair's pillow speaker via an audio jack."
"When customers consider different massage chairs" says Hayes. "They don't just want a device that feels good while you're utilizing it: they want a therapeutic massage experience that will improve how they feel all day long. With all the fun and functional features we've built in to our flagship chair, we feel that we are truly delivering that experience."
For more information on this award-winning massage chair, please visit EliteMassageChairs.com.
The Best Buy Seal is a registered trademark of Consumers Digest Communications, LLC, used under license.
# # #