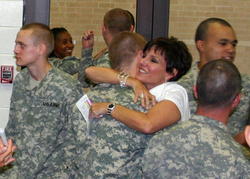 I had to get a job; I didn't have transportation and just learned my wife was pregnant. The National Guard was my light at the end of the tunnel.
Camp Robinson, AR (Vocus) October 14, 2010
Teachers and staff at the National Guard GED Plus Program hugged graduates and cheered them on as they crossed the stage to receive their General Educational Developmental credentials. It was a line they hoped all of their students would cross.
Ms. Tootie Halbrook, a certified teacher from Little Rock, started with the GED Plus program at the beginning and said every graduation is like the first.
"I am just like a proud Momma," said Halbrook. "These Soldiers are putting their lives on the line for my two kids and me. The least I can do is teach them the best way that I can. I would do this job for free if I could. It's not a job to me. It's more of a personal crusade."
The pass rate at GED Plus has gone from 80 percent in 2006 to 98 percent in 2010. Halbrook said they have worked hard to improve the program of instruction to address all modalities of learning.
"I like to say that I teach with tricks," Halbrook said describing methods of auditory, visual and kinesthetic learning activities. "But for me, the mothering, nurturing side…just writing a smiley face or a 100% on their papers is as much of a motivator for them to succeed. Even the bruisers, tough guys get upset when I don't do that. They're so needy for a positive stroke."
Pvt. Rickie W. Raynor from Mobile, Alabama described obstacles of drugs and "gang banging" as a life he left behind for a straighter and narrower path with the National Guard. Raynor found compassion and personal interest like he had never seen before.
"I was in and out of jail and stuff and I got kicked out of school," he said. "I had to get a job; I didn't have transportation and just learned my wife was pregnant. The National Guard was my light at the end of the tunnel." Raynor said the GED Plus program has given him a light for his path as well. "I feel great," he said. "It's the greatest sense of pride I ever had." Raynor received his GED and a certificate of achievement for graduating in the top three of his class.
According to the Alliance for Excellent Education, 7,000 high school students drop out every school day nationwide. Back in Sardis, Mississippi, Pvt. Christopher C. Neal became one more statistic, going from a straight-A student to dire straits when he started hanging with the wrong crowd.
"I started staying out late, disrespecting my mom, partying and drinking," said Neal. "So around my 11th grade year, I was pretty much done with school so that's when I dropped out. Now that I have my GED, I feel great! I mean…now I know that nothing is closed to me. So there are still possibilities out there for me."
Pvt. Nathaniel S. Unruh from Anaheim, Cal. was selected by his fellow Soldiers for the GED Plus Peer Leadership award. Unruh said that for someone without a high school education, he made a decent living until the economy turned sour.
"For a year I've been trying to go out and get a job to support my family," Unruh said. "It just wasn't happening. Me and my wife sat down and decided that the military would be the best thing for our family and our kids." Unruh plans to attend college after his initial entry training, earning his bachelor's degree and pursuing a career as an officer in the military.
In 1980, the United States led the world in high school graduation. Since then, the country slipped to 18th place amongst industrialized nations. In 2006, a former high school dropout turned GED graduate, launched the National Guard GED Plus Program to combat the dropout epidemic. According to the GED Testing Program Statistical Report, roughly 18 percent of the population in the United States, 39 million adults, doesn't have a high school diploma.
Lt. Gen. (Ret.) Clyde A. Vaughn, former Director of the Army National Guard knew what it was like to be left out and left behind without a high school diploma. Vaughn spearheaded the project and since the opening of the GED Plus program, the school has awarded more than 8,000 graduate examination diplomas to Soldiers throughout the 54 states and territories. The program grew rapidly and prompted the construction of a new, 200,000 square-foot building in 2009 featuring 22 classrooms, 12 barracks and a dining facility capable of accommodating 7,500 students per year.
The National Guard GED Plus Program is located at the National Guard Professional Education Center on Camp Robinson, in North Little Rock, Arkansas. At the program, students are exposed to both a military basic training and a structured academic environment, complete with drill sergeants.
The state-of-the-art facility will be dedicated October 21, 2010 at 10:00 a.m. central time in honor of the late Sgt. Jeffrey William Jordan who was killed in action near Kakar, Afghanistan June 4, 2009. Jordan earned his GED through GED Plus, Dec. 13, 2006. Officials will also dedicate the GED Plus Program to is visionary founder, Lt. Gen. (Ret) Clyde A. Vaughn.
###