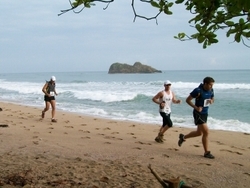 "Costa Rica Is A Country Of Runners and Tri-athletes" La Nacion
Denver, CO (PRWEB) October 15, 2010
Forget New York, Boston, Berlin, Stockholm, Chicago, Honolulu or the London Marathons. Not even Kenya is comparable to the Costa Rica Junglerun.
Organized by the creator of the "Ruta De Los Conquistadores" cycling race Roman Urbina now he presents "The Costa Rica Junglerun" a marathon race across jungle and beach to challenge anyone who believes a marathon is not about adventure running!
Forget running through city streets on pavement, go trail running through the rainforest and on some of the most pristine beaches in the world. Take the marathon experience to the next level.
There is no nicer time to visit Costa Rica and its beautiful beaches! Why not make Costa Rica your adventure destination for 2011 and fulfill this incredible challenge?
You can choose from a 42K, 21K, 10K or 5K and have an active vacation while you are at it!
The race has a full marathon (42kms), half marathon (21kms), 10K and 5K version so everyone can participate! Get ready, train, get fit and go to enjoy Costa Rica!
Itinerary description:
THURSDAY JANUARY 13TH, 2011- Arrival at San Jose Juan Santamaria Airport.
Transfer to Quality Real San Jose for overnight accommodation. Breakfast included.
FRIDAY JANUARY 14TH, 2011 - Transfer from San Jose to Puerto Viejo.
Pre-race meeting. Afternoon at leisure.
Overnight Accommodation at COSTA DE PAPITO (or similar). Breakfast included.
TURDAY JANUARY 15TH, 2011 - JUNGLERUN RACE
Overnight Accommodation at COSTA DE PAPITO (or similar). Breakfast included.
SUNDAY JANUARY 16TH, 2011 - Whitewater Rafting Tour at the PACUARE RIVER
Transfer back to San Jose
Overnight Accommodation at Quality Real San Jose. Breakfast included.
MONDAY JANUARY 17TH, 2011- Transfer to airport for international departure.
ABOUT LA COSTA DE PAPITO HOTEL:
La Costa de Papito is a Carribbean style lodge located in Puerto Viejo in front of the gorgeous white sand Cocles beach, winner of Costa Rica's blue flag for pristine beaches. Its bungalows are spacious and individually decorated with local crafts, stained wood, tiled bathrooms, bamboo and wood carved tables. They are privately set apart in a lush 5 acre (2 hectares) tropical garden on the edge of the jungle.
Visitors will find lots to do in Puerto Viejo region: kayaking, surfing, hiking and horseback riding, walking along miles of sandy beaches or experiencing exotic flora and fauna in a day tour at nearby Manzanillo Wildlife Refuge or Cahuita National Park. Afro Caribbean, indigenous and Costa Rican cultures blend in Puerto Viejo creating a unique relaxed laid back lifestyle which beats to the rhythm of the rainforest and reggae music.
How to register:
Visit Costa Rica Junglerun, the exclusive distributor of this race, vacancies are ample.
###