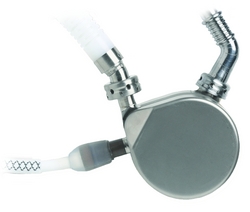 Toronto, Ontario (PRWEB) October 14, 2010
Terumo Heart, Inc., a wholly owned subsidiary of Terumo Corporation, today announced that the Peter Munk Cardiac Centre, at Toronto General Hospital, has become the first medical center in Canada to implant the DuraHeart™ Left-Ventricular Assist System (LVAS) as part of the study evaluating safety and effectiveness of the DuraHeart Left Ventricular Assist System in bridge-to-transplant patients (SUSTAIN BTT). The SUSTAIN trial is a multi-center, prospective, non-randomized study involving up to 140 patients across North America. The implantation also marks the first time a Canadian patient has been treated with the DuraHeart LVAS.
The study, which was granted unconditional approval in early 2010 by the U.S Food & Drug Administration (FDA), is evaluating the safety and efficacy of the device in helping to support patients awaiting heart transplant who are at risk of death due to end-stage heart failure. The DuraHeart LVAS carries a CE Mark and is currently available for sale in European countries. The company has recently completed clinical trial enrollment for this device in Japan, and has submitted its Destination Therapy (DT) Investigational Device Exemption to the FDA, which is a first step in the process of obtaining approval to begin its DuraHeart DT Clinical Trial in the United States.
"We are pleased to be the first center in Canada to bring this state-of-the-art technology to our heart failure patients," said Vivek Rao, MD, Surgical Director of the Heart Transplant program at The Peter Munk Cardiac Centre, and DuraHeart LVAS clinical investigator. "We look forward to being part of the landmark SUSTAIN trial evaluating the DuraHeart LVAS, which we believe is one of the most advanced left-ventricular assist devices currently available."
The DuraHeart LVAS, designed to aid the pumping action of the heart in order to circulate blood throughout the body, is designed to be used as a bridge to heart transplant (Bridge to Transplant - BTT) in patients with end-stage heart failure. Due to the scarcity of donor organs, patients can be on the waiting list for months until a suitable donor becomes available. During that time, a patient's condition can deteriorate dramatically, reducing them as transplant potentials, and leaving no alternative. Left ventricular assist systems offer the patient an increased quality of life while waiting for a suitable donor.
"Terumo Heart welcomes Toronto General Hospital and Dr. Rao's world-class team to the DuraHeart BTT trial. We continue to activate an increasing number of medical centers across North America into the SUSTAIN trial that are eager to add to the building body of evidence to support the submission and eventual U.S. approval of this important device," said William Pinon, President and CEO, Terumo Heart.
The DuraHeart LVAS is the latest-generation rotary blood pump designed for long-term patient support. The system incorporates a centrifugal flow rotary pump with a magnetically levitated impeller. The pump features three position sensors and electromagnetic coils that suspend the impeller inside the pump chamber without a single point of contact. The impeller's active magnetic levitation is designed to eliminate friction by allowing a wide gap between blood contacting surfaces, enabling blood to flow through the pump unimpeded in a smooth, non-turbulent fashion.
For more detailed information about the DuraHeart SUSTAIN Trial, visit http://www.clinicaltrials.gov, and for more information about the DuraHeart LVAS, visit http://www.terumoheart.com.
About Heart Failure
More than 22 million people suffer from heart failure worldwide with approximately one million new patients diagnosed annually. In the setting of an aging global population, heart failure is the number one reason for hospitalization. The most severely ill patients need heart transplants in order to recover. More than 8,000 people worldwide are on the list of eligible candidates for heart transplants annually, but less than 3,000 receive a transplant each year. A large number of people who suffer from severe heart failure do not qualify for transplantation due to other health issues. An alternative for these patients is access to artificial mechanical assist.
About The Peter Munk Cardiac Centre
The Peter Munk Cardiac Centre is the premier cardiac centre in Canada. Since it opened in 1997, the Centre has saved and improved the lives of cardiac and vascular patients from around the world. Each year, approximately 17,000 patients receive innovative and compassionate care from multidisciplinary teams in the Peter Munk Cardiac Centre, and the Centre trains more cardiologists, cardiovascular surgeons and vascular surgeons than any hospital in Canada. The Centre is based at the Toronto General Hospital and the Toronto Western Hospital - members of University Health Network, which also includes Princess Margaret Hospital. All three sites are research hospitals affiliated with the University of Toronto. For more information please visit http://www.petermunkcardiaccentre.ca
About Terumo Heart, Inc.
Terumo Heart, Inc. is a U.S. subsidiary of Terumo Corporation with headquarters and manufacturing facilities in Ann Arbor, Michigan. The company's focus is the innovation and introduction of products to improve the quality of healthcare for heart failure patients. Terumo Corporation, located in Tokyo, Japan, is a leading developer, manufacturer and global marketer of a wide array of medical products. DuraHeart is limited to investigational use only in the United States, and is CE marked in Europe. For more information visit http://www.terumoheart.com.
###