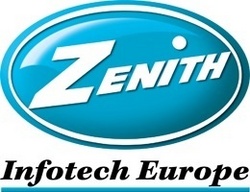 "Organisations of all shapes and sizes are looking at ways to reduce the cost of information technology and our launch of SmartStyle Office provides an innovative platform to deliver an IT platform as a simplified service from a single appliance."
(PRWeb UK) October 14, 2010
Zenith Infotech Europe, an international company serving IT Service Providers worldwide, will be staging the first UK demonstration of its innovative SmartStyle Office at the upcoming IP Expo from the 20-21 of October at Earls Court in London.
SmartStyle Office is the first "On-Premise Cloud" solution to provide a completely scalable IT environment from within a single device. The SmartStyle Computing® concept is a private cloud solution, which replaces conventional hardware and infrastructure with virtual desktops, servers, storage and networking. It includes advanced features that provide more reliability and flexibility than traditional IT systems: auto provisioning of servers/desktops, a built in dispersed storage SAN, 15 minute snapshotting, golden image technology, automatic failover, and much more! Following its tradition of creating Service Provider Enabling solutions, Zenith Infotech also bundles its full 24/7 monitoring & NOC.
Zenith Infotech Europe will have a live demonstration on its stand which will focus on how the revolutionary hybrid model offered by SmartStyle Office is helping to reduce the cost and complexity of IT environments while simplifying the delivery of managed services such as disaster recovery, IT monitoring and helpdesk.
IP EXPO the UK's largest end-to-end IT infrastructure event is a showcase for all the latest technology in one place at one time. With a full educational programme, IP EXPO helps IT professionals learn about IP Networks, Virtualization, Cloud, Wireless and Storage technologies – and see how they connect together.
"Organisations of all shapes and sizes are looking at ways to reduce the cost of information technology and our launch of SmartStyle Office provides an innovative platform to deliver an IT platform as a simplified service from a single appliance." comments Wilbert Ingels, Managing Director at Zenith Infotech Europe.
With huge interest in the market for virtualisation and software-as-a-service, SmartStyle Office provides a more cost effective alternative for smaller organisations or departments who would not financially benefit from a switch to either a traditional VMware or Citrix style virtualisation solution. These firms can't afford the initial high capital investment and additional IT staffing costs to move to a virtualised environment, especially as traditional maintenance and support contracts are not reduced by just the virtualisation of servers. Instead SmartStyle Office provides simple provisioning and management of virtual servers and desktops complete with pre-configured networking, distributed storage, backup, hardware-based power management all in a high availability set-up.
For more information, on the IP Expo please visit http://www.ipexpo.co.uk/
About Zenith Infotech Europe
Zenith Infotech Europe is the European division of the international group Zenith Infotech Ltd. The European headquarters is based in Belgium, operated by A-Server NV. Zenith Infotech has a focus on providing standardized and scalable managed IT services to the reseller channel. The service is oriented exclusively to the SME segment.
The portfolio of services is a perfect complement to the activities of the IT reseller. These services are offered through the network operations center in Mumbai, India, where about 600 people support the managed services infrastructure and global customer portfolio.
The services include backup and business continuity solutions for SMEs, Monitoring and Management services for desktops and servers, and more recently the management of an overall SME IT environment via SmartStyle Office, an innovative cloud computing solution for network computing. 700,000 sites currently managed by 5,000 IT resellers. More information can be found on http://www.zenithinfotech.eu
###