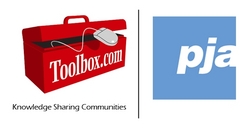 Scottsdale, AZ (PRWEB) October 14, 2010
Toolbox.com, the operator of online communities for professional knowledge sharing, and PJA Advertising + Marketing, three-time BtoB Agency of the Year winner, today announced results of Wave VI in the Social Media Index survey series.
A top finding: despite a 35% increase in social media consumption to 5.88 hours per week, more than half of respondents across IT, HR, and finance either do not have a social media policy at their company or are unsure if they do.
The survey of nearly 3,000 global IT, HR, and finance professionals found that although social media policies may be hard to come by in many companies, 40% of IT and finance respondents and 46% of HR respondents said that their workplace makes it "easy" or "very easy" to use social media on the job.
The majority of users choose work e-mail accounts for best practice communities such as Toolbox.com and StackOverflow and personal accounts for professional networks such as LinkedIn and Ryze.
"Despite the increased utilization of social media on the job and its link to potential business advantage, this survey shows that most companies do not have a clear social media policy in place, if they have one at all," commented George Krautzel, co-founder and president of Toolbox.com. "As user-generated content continues to make up a greater percentage of a professional's week, companies need to accelerate their thinking about two things: how to guide employees on properly representing their company when engaging, and how to make their own IP accessible in social channels."
"The news for me here is around integration," said Mike O'Toole, president at PJA Advertising + Marketing. "Based on these results, it's clear that you really need to bring social media and user-generated content into all the ways you communicate with your colleagues and customers to be effective. There's a clear opportunity cost if you don't have a simple, clear policy that balances self-monitoring with company regulations. And since marketers are the owners of where social practices are moving for companies, these policies really ought to be coming out of collaboration between Marketing and Legal, with Marketing leading the charge."
Respondents showed insight about user-generated content that often runs in advance of their own company's leadership. In the words of one, "We need a workplace policy that acknowledges the blurring of work and the personal, for example around the use of a single mobile device. We also need workplace policies that permit the use of social media sites and police content rather than content providers. For example, we need to address inappropriate use on an exception basis rather than banning it outright as a blanket policy."
Other information to come out of the survey:

Consumption of social media (user-generated) content was up across audiences compared to Wave V of the Toolbox.com/PJA survey, conducted in January 2010
IT professionals spend an average of 5.86 hours per week engaging with social media content, versus 3.81 with editorial content and 3.41 with vendor content
HR professionals spend an average of 6.02 hours per week engaging with social media content, versus 3.89 with editorial content and 3.10 with vendor content
Finance professionals spend an average of 5.50 hours per week engaging with social media content, versus 4.45 with editorial content and 2.75 with vendor content
To view complete survey results, click here: http://bit.ly/Toolbox-PJA
About Toolbox.com
Toolbox.com helps professionals do their jobs better by enabling them to easily share knowledge with experienced peers. The online communities at Toolbox.com include professional networking, blogs, discussion groups, wikis, and a vendor research directory through which executives and professionals collaborate to solve problems, make decisions, and increase workplace efficiency. Through the community, advertising partners can engage prospects and customers either directly or by integrating their message through a proprietary contextual matching engine. This combination of community and advertising value has made Toolbox.com a leading destination for professionals and a leader in online advertising. Toolbox.com is a division of Corporate Executive Board (NYSE: EXBD). For more information, visit http://www.toolbox.com.
About PJA
PJA is a $75 million advertising and marketing agency with offices in Cambridge, Massachusetts, and San Francisco, California. PJA serves a global roster of technology, life science and healthcare clients that includes: Novell, GE Healthcare, Boston Scientific, Limelight Networks, Pegasystems, Trend Micro, Infor, and TriZetto. For more information, visit http://www.agencypja.com.
###