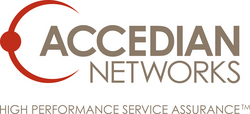 (PRWEB) October 15, 2010
WHAT:
A group of the industry's most prominent CTOs and invited guests will tour the Accedian
Networks exhibit at SCTE Cable-Tec Expo® 2010 for a brief overview/demo of the Company's High Performance Service Assurance™ platform—consisting of the MetroNID® and MetroNODE 10GE™ hardware-based network interface devices (NIDs), as well as its comprehensive suite of performance monitoring software for Carrier Ethernet and IP networks.
WHO:
Craig Easley, VP Marketing & Product Management will give an overview and demo of Accedian's technology, followed by a brief Q&A.
WHEN:
Thursday, October 21, 2010
1:25 p.m. – 1:40 p.m.
WHERE:
SCTE Cable-Tec Expo
New Orleans, IL
Accedian Networks Booth # 1908
WHY:
Designed to increase the educational value of exhibits on the show floor, Cable-Tec Expo's CTO-led Tours is part of SCTE's commitment to bring problems and problem solvers together. Accedian , the #1 provider of performance assurance solutions for Ethernet mobile backhaul was selected to present its High Performance Service Assurance platform to demonstrate how cable operators can leverage the solution to successfully deploy Carrier Ethernet mobile backhaul services.
Featuring the industry's only Fast Performance Assurance Agent silicon processor (Fast-PAAs™), Accedian's purpose-built NIDs outperform Carrier Ethernet Switch/Routers (CESRs) that have implemented performance assurance features as software enhancements and lack the processing power to accommodate the volume of Accedian's MetroNID and MetroNODE devices. Accedian's family of NIDs also leverage standards-based performance monitoring (ITU Y.1731) to measure the key performance indicators (KPIs) of service performance including latency, frame delay variation and frame loss—with measurements that are accurate to within a microsecond compared to CESRs which are accurate only to within 10's of milliseconds. Accedian's platform provides operators with the service level performance information that is critical to Carrier Ethernet deployment—without sacrificing the quality or performance of the service itself.
###