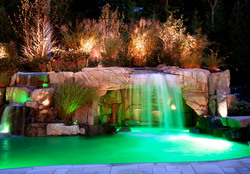 The key to waterfalls and other artificial rock formations is an accurate simulation of Nature within a given structure and environment. -Chris Cipriano, President and CEO of Cipriano Custom Swimming Pools and Landscaping
Ramsey, NJ (PRWEB) October 16, 2010
Every year, magnificent waterfalls in southern Africa and a mysterious grotto off the coast of Italy attract thousands of curious visitors from all over the world. But today, Mother Nature's audience can stop travelling and start building. Sculpted concrete, or faux stone, along the edges of swimming pools can appear identical to waterfalls and other rock formations found in our natural environment.
Artificial rock formations, unlike natural rock formations, can be used to create any structure one can imagine, while completely disguising it as a natural phenomenon. "The key to waterfalls and other artificial rock formations," says Chris Cipriano, President and CEO of Cipriano Custom Swimming Pools and Landscaping, "is an accurate simulation of Nature within a given structure and environment." The goal is not to improve upon Nature but rather to understand how a portion of Nature would appear in a given space. With strict adherence to this idea, concrete rock formations, in color, cracks, and construction, allow for the seamless re-creation of natural phenomena and timeless works of art.
While Mother Nature waits centuries for natural erosion, Cipriano recently built a custom grotto in Saddle River, NJ that blends seamlessly into rocky waterfalls along the edge of a swimming pool. The concrete matches natural stone formations with meticulous placement, specific coloring, and purposeful cracks and crevices. Set between the recreational waterslide and the poolside cabana, the fake rock formation accurately portrays one of nature's unique wonders by providing a natural escape behind the privacy of a large waterfall. Fit with colored fiber optic and LED lighting, the swimming pool's grotto can even transform into an adaptation of La Grotta Azzurra in Italy.
Cipriano Custom Swimming Pools and Landscaping has specialized in natural swimming pools and landscapes for over twenty years. In the past, the New Jersey firm relied heavily upon stone outcroppings found all over the country. Now Cipriano Custom Swimming Pools and Landscaping looks to take over for Mother Nature. Cipriano remarked, "Artificial rock formations allow our clients and landscape architect the freedom to trust their wildest imaginations. We used to ask, 'Where can we find that?' Now, we ask, 'How soon can we build it?'"
In addition to natural waterfalls and grottos, fake rock, also known as faux stone, can also be used to simulate the natural aging process of stone. Cipriano recently used precast concrete to construct an "Old World" style swimming pool with layered concrete capping and seven hand-crafted concrete sculptures that act as fountains. The concrete brings the swimming pool back in time with a weathered tan color and purposeful nooks and crannies.
Whether it is used to construct detailed antique architecture or natural waterfalls and grottos, concrete, fake rock, if done well, can be indistinguishable from any natural stone or rock formation. With faux stone and artificial rock formations, homeowners can take snapshots of their favorite natural waterfalls, grottos, and landscapes and have them constructed right in their own back yard. Visit http://www.PlantNJ.com.
About Cipriano Landscape Design:
Celebrating over 20 years in business, Cipriano Landscape Design is a recognized industry leader in custom residential landscapes, masonry and swimming pools. After a little more than a decade in business, the company catapulted to the top of the state's luxury landscaping and pool industries when it was awarded a $2.5 million residential landscape project. Today, along with the Ramsey, NJ office, the Cipriano family owns a 10-acre farm and nursery in Mahwah, NJ, where large caliper specimen trees and other rare plants are grown. With a design office headed by Certified Landscape Architect William Moore, the Cipriano team won the Northeast Pool & Spa Association's 2007 Best in Competition swimming pool award and a Silver medal at Association of Pool & Spa Professional's International Awards of Excellence. In 2009, the Cipriano team earned the Certified Building Professional (CBP) credential from the APSP, one of only four custom pool buildings in Bergen County to have earned the certification.
###