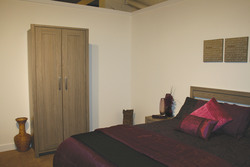 Fashion trends are constantly changing, and not only in clothing. Whether it be high gloss fronts or soft delicate fabrics, grey is certainly in this season
(PRWeb UK) October 15, 2010
Kingstown Furniture, the UK's leading manufacturer of ready assembled bedroom and lounge furniture, has introduced a new 'smokey oak' look to suit its Bordeaux range of bedroom furniture.
"Fashion trends are constantly changing, and not only in clothing. Whether it be high gloss fronts or soft delicate fabrics, grey is certainly in this season," said Geoff Brailsford, Group Sales Director for Kingstown Furniture. "Having researched the market, we decided to combine this season's popular tones of grey with 'chunky' transitional oak designs and produce a beautiful 'smokey oak' finish for our Bordeaux range of bedroom furniture."
The new range was recently unveiled at the 2010 Autumn Bed and Furniture Show in Salterforth and received an extremely positive reception from both dealers and trade journalists. With a high number of orders already received, Kingstown feel confident that 'smokey oak' is set to become one of its most popular ranges. Geoff Brailsford explains…
"We are thrilled with the feedback we've received and feel that the new range could potentially be our most successful range to date. It's our aim to design and produce furniture that is value for money and will suit a variety of tastes. We believe this new bedroom range will appeal to a wide section of the market, offering a contemporary and adaptable colour."
With strong mitred design features to the side of the chests and a framed look that is continued on the wardrobe with five piece doors, the new 'smokey oak' range combines style and value for money. Smoked glass tops are also available to add value and practicality.
With over 30 years' experience of furniture manufacture, Kingstown is committed to manufacturing high quality bedroom and lounge furniture here in the UK. With extensive, state-of-the-art manufacturing facilities at Hull, East Yorkshire, the business is well placed to respond quickly to customer requirements. The business can produce over 300,000 units each year, with over half being delivered direct to the consumer's home on Kingstown's own delivery fleet, and has an annual turnover of £26m. Kingstown operates with concern for the environment, from the careful selection of raw materials to stringent waste reduction policies.
Copies of Kingstown Furniture's current brochure can be obtained by downloading from Kingstown's website: Kingstown Website or ring 01482 717232
###