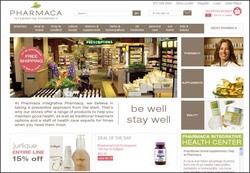 Rochester, NY (PRWEB) October 15, 2010
UniteU Technologies, Inc., a leading provider of integrated, on-demand ecommerce applications, announces the launch of http://www.pharmaca.com. UniteU will be providing a full range of ecommerce and e-marketing services to support consumer online sales of Pharmaca products.
Since opening its first store in 2000, Pharmaca Integrative Pharmacy has offered traditional pharmacy services alongside holistic remedies so customers can choose how they want to approach their health. Pharmaca's staff of certified practitioners helps guide customers through a selection of over-the-counter medications, alternative remedies, and natural cosmetics and body care products for a stress-free shopping experience.
Pharmaca's goal to bring the in-store energy, product mix and shopping experience to the online shopper was achieved by replatforming with UniteU's on-demand, software-as-a-service approach (SaaS) ecommerce solution. "UniteU has the ecommerce tools and technologies to help companies like Pharmaca more effectively and efficiently sell directly to the consumer on a global basis," said Soumen Das, UniteU's CEO. "We can tailor our application to handle complex requirements. We deliver global ecommerce capabilities as well end-to-end ecommerce services."
Pharmaca had outgrown its internally developed ecommerce system and needed a cutting edge solution that would support the aggressive growth objectives for its online channel and leverage their existing retail store inventories. UniteU's solution provides a rich product presentation, improved shopping navigation, and a more personalized online buying experience. By deploying the UniteU solution, Pharmaca has gained superior personalization and merchandising features that are built into the hosted solution. Web Managers have more control over the way shoppers interact with the web store and make it easier for shoppers to research relevant products related to a specific medical conditions.
"We looked at a lot of other companies and what really set UniteU apart is that they are more than just a SaaS technology provider", says Wayne Aiello, Pharmaca's E-Commerce Director. "Their focus is on retail, and in particular, they understand the ecommerce niche extremely well. During implementation the UniteU team managed the overall project for us, coded the site and trained us on how to best use it. As a leading merchant of integrative health and wellness products, we were grateful we didn't have to worry about building all the functionality ourselves and instead could focus on the tasks that help set us apart from our competition. I have worked with many technology vendors in the past but never had anyone hand hold us through an implementation as well as UniteU did."
Pharmaca's daily online sales jumped more than 30% the day after moving to the UniteU platform. But according to Aiello, the best benefit of partnering with UniteU is yet to come. "Now that our site is live," comments Aiello, "UniteU continues to coach us on ways to grow sales. UniteU's Strategic Partner Program enables us to leverage the expertise of the UniteU team as well as their network of commercial users. We are getting a true retail partner with UniteU."
"We are ecstatic to be partnering with Pharmaca and to be assisting with their growth objectives", said Jacqueline Segura, Director Merchant Solutions Group at UniteU. "We are confident they will see an immediate impact on site traffic, online sales, and their bottom-line from backend efficiencies. We work in partnership with all our customers to help them attain their business goals."
UniteU is a comprehensive hosted ecommerce solution available via Software-as-a-Service (SaaS) with dedicated hosting and managed services. The UniteU Connected Commerce platform enables merchants to quickly implement a new web storefront, outsourcing hosting and database administration to UniteU experts. With UniteU's ecommerce platform, a merchant is able to provide a personalized online buying experience and making it easy for shoppers to find desired products, register for gifts, pre-order products, redeem coupons, comparison shop and checkout with ease using a one page checkout process.
About Pharmaca
Pharmaca Integrative Pharmacy, Inc., founded in June 2000 and based in Boulder, Colorado, is the nation's first and largest integrative pharmacy chain combining conventional prescriptions, natural and complementary health solutions. The Company owns twenty pharmacies in: Boulder, Colorado(3); Berkeley, Irvine, La Jolla, Los Gatos, Mill Valley, Monterey, Napa, Novato, Pacific Palisades, Sonoma and San Francisco, California (11); Portland, Oregon (1); Albuquerque and Santa Fe, New Mexico (2); and Seattle, Washington (3). http://www.pharmaca.com
About UniteU
UniteU Technologies, Inc. is a leading provider of on-demand ecommerce solutions delivered thru the SaaS model. The company's ecommerce solutions are designed to help companies of all sizes maximize online revenues as well as reduce the costs and risks of running an e-commerce operation. UniteU has powered startups who reached the pinnacles of top 100 status. The UniteU Connected Commerce platform is PCI compliant and adapts and scales to meet the ever-changing needs of multi-channel retailers; supporting custom designs, integration, rich media, advanced promotions, multiple payment and shipping options and intuitive search and navigation capabilities. UniteU also retains valuable expertise, offering premier managed hosting, web analytics, in addition to e-business consulting and web marketing services that drive traffic, conversions and retention. Go to http://www.uniteu.com to learn more.
Media contact: Kevin Oliver, http://www.uniteu.com
Learn more about UniteU Ecommerce Solutions
###