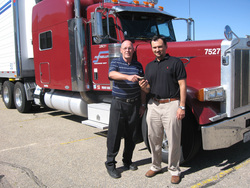 Parker, CO (PRWEB) October 21, 2010
In the age of instant communication, android cell phones and dynamic web Portals, DataTracs enables carriers to switch gears and instantly deploy low-cost cell phone-based GPS tracking with sought after features including Geo Fencing, integration to Transportation Management Systems and dynamic dispatch features.
Typically, most freight carriers rely on purchasing costly GPS equipment that requires time-consuming installation on each individual truck. They then experience expensive recurring costs to view driver positions. With smart cellular phones now being the common means of communication, DataTracs, LLC has created a solution that enhances productivity, profitability and customer satisfaction.
Over the course of a year, DataTracs thoroughly examined the industry's need for instant, reliable communication that is rapidly deployable. This effort resulted in a highly affordable GPS-specific application for cell phones that will replace the need for expensive GPS communication equipment and the installation on each vehicle, making this a very cost effective tracking solution.
The DataTracs tracking solution is instantly deployable. The drivers purchase an inexpensive cell phone from Verizon, AT&T or Sprint including Androids, Blackberries, iPhones and a variety of conventional cell phones. The truck driver receives a text message to program the phone. In seconds, the truck is being tracked by GPS.
The DataTracs dynamic web-tracking Portal is easily configurable and rapidly integrates with the carrier's Transportation Management System. It Identifies the GPS Tracs for each or all drivers, utilizes Geo-fencing to acknowledge when a driver is near the intended destination and provides drivers with next-load choices at the push of a button. This solution utilizes a state of the art Web Portal that displays a driver's position on a global map. At the touch of a pre-programmed button on the driver's cell phone, GPS information is instantly relayed to this company's Transportation Management System (TMS) on status including dispatch, pick-up, delivery and next load. With this new application, employees both on and off the road are able to stay in constant contact. Coupled with this two-way communication between driver and home base is a GPS-based Geo-fencing application. When a driver is within a few miles of his destination, the GPS software alerts the home base that a pick-up or delivery is about to happen.
Rainer Schelp, President and Yuriy Verkhovy, CTO, the founders of DataTracs, have specialized in wireless business software and mobile asset management for over 10 years. The founders have a unique blend of business experience, state-of-art technology expertise, marketing and sales know-how. Rainer Schelp is also President of NetFuzion, Inc. and Estes Park Central.
As a result, DataTracs features the use of the open system Andriod cell phones as well as Blackberries and other GPS-capable phones. The DataTracs software enables a driver to view his current position on a map displayed on the phone and can receive visual and verbal driving directions to the next destination. The Transportation Company can change the GPS polling interval rate at will via a web-based Portal to see drivers' positions every 5 minutes or every hour.
The DataTracs value proposition includes GPS tracking, intelligent dispatch, integration with TMS (Transportation Management System), geo-fencing, rapid deployment, more revenue-producing transactions and increased profitability due to reduced costs and increased operational efficiency. DataTracs is enabling the transportation industry to have more options when it comes to meeting their drivers' needs.
By choosing the DataTracs GPS Transportation Solution, a transportation company can deploy the DataTracs solution to thousands of drivers and pays off instantly in recurring cost savings. Real-time visibility of the drivers also pays off in customer satisfaction. This streamlined, instantaneous communication solution is a cost-effective hi-tech pathway leading our customers into an evolution of growth and productivity. For more information please see our GPS case studies on using mobile phones for GPS tracking
###