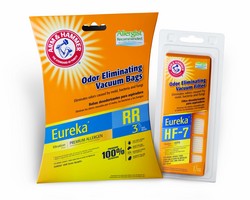 The best way to fight allergies is to keep your home free from illness-inducing allergens
Bloomington, IL (Vocus) October 15, 2010
For the nearly 35 million Americans who suffer from itchy noses and watery eyes as the seasons change, 2010 has been an unwelcome year. Spring allergies were at an all-time high and, according to the National Wildlife Federation (NWF), the fall allergy season will follow suit. The NWF claims that ragweed, fall's chief allergy trigger, is projected to thrive due to increased carbon dioxide levels in the atmosphere, creating one of the worst fall allergy seasons to date.*
With the ragweed pollen count anticipated to be the highest it's ever been*, it is important to create a cleaner home as a safe haven for families to breathe easy. Use these tips to prep your home for allergy season:
•Change Vacuum Cleaner Filters and Bags
Changing your vacuum cleaner filter at the start of the fall season gives your vacuum increased suction to trap dust and ragweed pollen that finds its way into your home. Using allergist-recommended vacuum cleaner bags also helps fend off allergens. In a survey of allergists nationwide, four out of five recommended ARM & HAMMER® premium allergen vacuum bags as a way to relieve or reduce allergy symptoms.**
"The best way to fight allergies is to keep your home free from illness-inducing allergens," said Dr. Frederic Renold, a Fellow of the American College of Allergy, Asthma and Immunology and allergist on staff at Chicago's Swedish Covenant Hospital. "ARM & HAMMER premium allergen bags trap and remove allergens as you vacuum, leaving the air in your home cleaner and fresher, while making it a good place to hide from seasonal allergens."
ARM & HAMMER offers HEPA vacuum cleaner filters which keep 99.97 percent of small particles like dust, pollen and pet dander from being circulated in the air, as well as premium filtration vacuum bags to fight allergens.
•Check Your Humidifier Setting
Be sure that humidifiers are set so that the air in your home has between 35 to 50 percent humidity. Air that is too dry can lead to dried-out sinuses, which can further irritate allergy sufferers. Also, be sure to use a humidifier that has a HEPA filter. These filters rid the air of pollen, mold and dust mite allergens as they circulate through the humidifier.
•Clean Heating Ducts
Dirty air ducts are a breeding ground for mold and dust. If not cleaned, allergens that are trapped inside can be blasted throughout the house when it's time to crank up the heat. Before turning your heat on for the first time in the fall, be sure to clean your heating ducts, or have them cleaned by a professional.
•Use Your Bathroom Vent
When showering, turn on your bathroom's exhaust fan. Bathrooms are a favorite place for mold which can trigger allergies – so keeping them dry is important. Also be sure to clean or replace your shower curtain liner every month or two for a mold-free shower.
ARM & HAMMER vacuum cleaner bags, filters and accessories are available only at Walmart and walmart.com. For more information, consumers can visit http://www.armhammervac.com.
ARM & HAMMER vacuum accessories offer more than 120 styles made to fit nearly all brands and models of vacuum cleaners. The vacuum accessory line is distributed by Electrolux® Home Care Products, Inc., the producer of leading floor care brands Eureka® and Electrolux, in cooperation with Church & Dwight Co., Inc., owner of the ARM & HAMMER brand.
ARM & HAMMER and the ARM & HAMMER logo are trademarks of Church & Dwight Co., Inc.
*National Wildlife Federation, 2010, http://www.nwf.org/News-and-Magazines/Media-Center/Reports/Archive/2010/~/media/PDFs/Global%20Warming/Reports/NWF_AllergiesFinal.ashx
**According to a nationally-representative survey of allergists/immunologists commissioned by Church & Dwight.
For Image: http://tiny.cc/armhammerallergy
More Info: http://pitch.pe/94722
About Electrolux® Home Care Products, Inc.
Electrolux Home Care Products, Inc. (EHCP) leverages consumer driven insight to manufacture and market innovative floor care products under its well-known Eureka and Electrolux consumer brands. The company also sells high-quality commercial products under its Sanitaire brand name and central vacuums made by its Electrolux Central Vacuum Systems division (formerly known as Beam Industries). EHCP is based in Bloomington, Ill., and is a part of The Electrolux Group. Visit electroluxusa.com, eureka.com, sanitairevac.com or beamvac.com for more information.
About Church & Dwight Co., Inc.
Church & Dwight Co., Inc. manufactures and markets a wide range of personal care, household and specialty products under the ARM & HAMMER trademark and other well-known brand names.
###