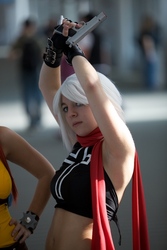 We have come a long way since our first event of 300 people to expecting over 3500 new and returning members.
Hampton, VA (Vocus) October 14, 2010
This November 5-7, 2010 the Hampton Roads Convention Center welcomes back over 3,500 otkau (fanboys and fangirls) to NekoCon XIII (13), a Japanese anime convention being held for the fourth consecutive year at the center and the thirteenth consecutive year in the Hampton Roads region. As in years past, the event will feature everything from cosplay (a combination of the words costume and play, cosplay refers to individuals dressing up in outlandish costumes) - to L.A.R.P. (Live Action Role Playing) in which attendees dress up as their favorite anime characters and become part of the action.
Convention Chairman, Martin Mathews, remarks, "We have come a long way since our first event of 300 people to expecting over 3500 new and returning members."
Attendees are welcome to attend various panels and workshops, purchase merchandise in the dealer's room, and be a part of main attractions like karaoke contests, art shows, and nightly dances. Saturday afternoon's cosplay, a convention favorite, invites members to portray their favorite characters and perform skits or display their costume-making expertise.
One of the longest running traditions at NekoCon is the art show, featuring work from both amateur and professional artists showcasing anime, fantasy, and sci-fi inspired work. Convention attendees are encouraged to browse all art selections, as well as make bids on selected pieces that are currently up for sale. The art auction on Sunday, November 8, will allow conventioneers the opportunity to finalize or make any changes to their bids. There is no fee to display art.
Different from the art show and art auction is the artist alley, an area designed to allow nonprofessional and semiprofessional artists to display, create, and commission their own traditional work in formats ranging from models, t-shirts, calendars, drawings, posters, and more. The artists are encouraged to display and sell their own merchandise. While fan art is not banned from the alley, the sale of fan art is restricted and will be strictly policed for copyright infringement. (An example of fan art would be an artist selling HIS/HER rendering of Wolverine though the artist did not create Wolverine).
New to NekoCon this year is the Asian Ball Jointed Doll programming track. It will include a little bit of everything about Asian Ball Jointed Dolls, from how to cast your own parts to a history on the hobby!
Other major highlights of NekoCon XIII include an AMV contest, as well as a dealer's room where fans can purchase DVDs' CDs, posters, wallscrolls, manga, idol cards, and more. This year will also feature an even larger game room than in year's past.
NekoCon XIII will include guest appearances by:
•Akemi Solloway - Miss Akemi Solloway (née Tanaka) is the daughter of an old samurai family and grew up immersed in the traditional arts and culture of Japan. In addition to her university education, she attended the Tchiyoda Gakuin Finishing School, where she formally studied Occidental and Oriental etiquette. She is a lecturer and consultant of Japanese culture, and leads study tours to Japan each spring and autumn. She is active in the worlds of business, diplomacy, education, and the arts, where she strives to combine traditional beliefs, such as Bushido, with the best of modern technology and ideas.
•Cristina Vee (Voice Actor) - Christina started voice acting at the age of 16 with Bang Zoom Entertainment and has many roles such as Magical Girl Lyrical Nanoha as the titular character, Rozen Maiden as Kanaria, The Familiar of Zero as Louise, Aika in Aika R-16, and she is the announced voice of Mio Akiyama in K-ON.
•Chris Rager (Voice Actor) - Chris's most notable roles have been Mr. Satan and King Yemma on "Dragonball Z". You may have also heard him in Blue Gender, Case Closed, Black Cat, Desert Punk, Lupin III, Full Metal Alchemist, Yu Yu Hakusho, Samuri 7, and Sgt. Frog.
•Richard Ian Cox (Voice Actor) - Richard has been in several series such as "Ranma ½", "Inuyasha", "Botsmaster", "Trouble Chocolate", "First Gundam", "Mega Man", "Gundam Seed", "Hamtaro", "Gundam 00", "Being Ian", and
"X-Men Evolution".
•Greg Ayres- (Voice Actor and Disc Jockey) - Ayres is an incredibly accomplished voice actor. You may have heard him in such titles as Air Gear, BECK: Mongolian Chop Squad, Clannad, SoltyRei, Trinity Blood, Welcome to the NHK, and Sgt. Frog to name a few.
•THE SOUND BEE HD - The former vocalist of media youth, DAISUKE, after working on solo projects for a time, formed THE SOUND BEE HD in 2000. They then released 3 albums and a single. The band then experienced a member change and Tak of Calmando Qual began to participate in all aspects of the band's performing and recording activities. In 2010 they released their third full-length album, [Hachi], accompanied by vast changes in their musical style and visual image achieved through the concept of a fusion of heavy rock and electro with a Japanese taste, under the theme of Japanese Goth. This fall they will work simultaneously on a new release and a domestic tour, as well as perform in the US for the first time a NekoCon. The Sound Bee HD is presented by Tainted Reality.
•DJ Hip*Starr and VJ ValuJet - DJ Hip*Starr is a accomplished DJ and VJ ValuJet is a accomplished Video Mixer.
•And many, many more!!!
Friday and Saturday's festivities will include concerts from The Sound Bee HD and will conclude with dances: The Giant Robot Dance featuring DJ Ayres at 11:00 p.m. on Friday, November 5, and Catseye with Rob Lantz, Andrew Iwancio, DJ Hip*Star and VJ ValuJet at 10:00 p.m. on Saturday, November 6.
NekoCon XIII Hours:
Friday, November 5: 12:00 p.m. – 2:00 a.m.
Saturday, November 6: 8:00 a.m. - 2:00 a.m.
Sunday, November 7: 8:00 a.m. - 5:00 p.m.
Artist Alley Hours:
Friday, November 5: Noon- 10:00 p.m.
Saturday, November 6:10:00 a.m. – 10:00 p.m.
Sunday, November 7: 10:00 a.m. – 4:00 p.m.
NekoCon XIII Memberships:
Regular Child
(7 yrs. And up) (6yrs. & under)
At the door
(full membership) $50 Free
At the door (One Day Trial Membership)
(Friday Nov. 5 only) $35 Free
At the door (One Day Trial Membership)
(Saturday Nov. 6 only) $40 Free
At the door (One Day Trial Membership)
(Sunday Nov. 7 only) $30 Free

Entrance is good for a one- year membership to NekoCon. Everyone who pays admission to NekoCon will receive this membership, entitling them to newsletters and announcements regarding future events and activities.
For more information on NekoCon XIII, check out http://www.nekocon.com or email info(at)nekocon(dot)com.
###