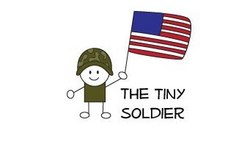 Fun Clothes, Great Cause.
Peoria, AZ (PRWEB) October 19, 2010
The Tiny Soldier is proud to announce the launch of its new online clothing site, http://www.thetinysoldier.com. Specializing in custom embroidery with a twist, The Tiny Soldier will create a logo for any business or occasion. The company can also embroider and monogram a wide variety of clothing and textiles, such as hats, sweatshirts, towels and blankets. Customers can receive a free quote for the order through the company's website.
The Tiny Soldier also carries a line of children's clothing embroidered with patriotic and military-inspired designs. Parents can outfit their little soldiers, sailors or marines in clothes with kid-friendly armed forces icons, as well as American flags, fireworks and rockets. The shirts, onesies and other items can also include a custom embroidered message. The company will be introducing Police, Fire, Sheriff, EMT and Border Patrol designs in the next month.
Founder Janell Mitchell said she wanted the company to be able to give back to the very people who inspire so much of its work – the troops. That's why The Tiny Soldier donates five percent of all its proceeds to Operation Gratitude, an organization that sends care packages to U.S. soldiers. The packages contain food, entertainment and "personal letters of appreciation," according to the organization's site. Customers can also send a letter to troops stationed overseas through The Tiny Soldier's website.
The Tiny Soldier's slogan is "Fun Clothes, Great Cause," a reminder that the company does more than just sell clothing. For more information about The Tiny Soldier and its products, please visit http://www.thetinysoldier.com
###