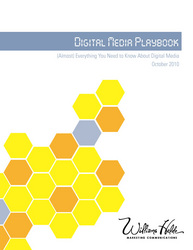 Seattle, WA (PRWEB) October 18, 2010
As we move into Q4, we're fortunate to look back upon a great year in advertising. The industry is evolving fast, and with 2011 rapidly approaching, Williams-Helde is working alongside new media outlets, emerging technologies, and its bold clients to help write the future of the advertising industry.
To help break down this dynamic landscape, Williams-Helde has written the Digital Media Playbook: (Almost) Everything You Need to Know About Digital Media. This is a great learning tool and a reference guide into the world of digital media for people new to the industry to veterans looking to expand their knowledge of the digital media space.
The Digital Media Playbook can be downloaded at http://www.tinyurl.com/WHPlaybook
# # #