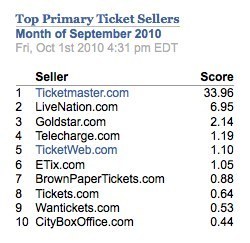 Altadena, CA (PRWEB) October 18, 2010
In the newly published industry ranking supplied by Ticket News, Goldstar made its debut at number three -- listed only behind live entertainment ticketing fixtures Ticketmaster.com and LiveNation.com.
The popular web site, http://www.goldstar.com, which connects 1.2+ million members to events and activities across the United States by providing the world's largest selection of half-price tickets, customizable features, and user reviews online, is the only half-price ticket source to make the top 10 list.
About Goldstar
Goldstar is an Internet company that builds new, more diverse audiences for venues by reaching out to its more than 1.2+ million members with ticket offers to all things live entertainment, including theater, dance, comedy, jazz, concerts, and sporting events. A free no-hassle membership allows people to log on to http://www.goldstar.com and receive weekly e-mail summaries that feature the 900-1200 discounted events offered in ten major U.S. cities – Los Angeles, San Diego, San Francisco, Las Vegas, Chicago, New York, Boston, Washington, D.C., Seattle and now Minneapolis. Goldstar is a private self-funded company.
# # #