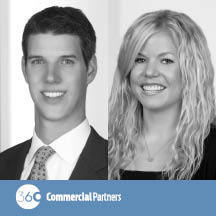 "Matt Christensen and Blair Socci represent the most promising talents in the next generation of commercial real estate stars." - Louis Tomaselli, 360 Commercial Partners' Founder and Managing Partner
Irvine, CA (PRWEB) October 19, 2010
360 Commercial Partners, a full-service commercial real estate brokerage based in Irvine, California, today announced the addition of two new associates to the firm. Matt Christensen will serve as an associate for the firm's best-in-breed Industrial Advisory, while Blair Socci joins as an associate for Orange County's #1-selling Office Sales/Investment Advisory.
"As the region's most innovative and client-centered brokerage, 360 Commercial Partners is highly selective when it comes to tapping the industry's top professionals to join our esteemed collaborative teams," said Louis Tomaselli, 360 Commercial Partners' Founder and Managing Partner. "Matt Christensen and Blair Socci represent the most promising talents in the next generation of commercial real estate stars."
Previously a member of CB Richard Ellis' research team, Christensen bring his well-honed market analysis skills and top-notch sales and leasing acumen to the 360 Commercial Partners' Industrial Advisory. "At 360 Commercial Partners, I am able to leverage the firm's leading-edge marketing, advertising and collaborative practice platforms to maximize bottom-line benefits for our valued clients," said Christensen.
Socci, now an Associate for 360 Commercial Partners' Office Sales/Investment Advisory, previously worked as a sales associate for Fidelity National Title, and brings an impressive network of broker and principal prospects to the practice. "I am privileged to be a member of the number-one office sales team in Orange County, and will provide unparalleled service to our clients," said Socci.
With its headquarters at 2211 Michelson in Irvine, and a network of hand-selected affiliates worldwide, 360 Commercial Partners offers clients the expertise of a top-performing team of commercial real estate professionals with an unwavering dedication to delivering best-in-industry results and five-star client service. The firm's five advisory groups specialize in industrial, office, investment, development and consulting for commercial real estate clients, including many Fortune 500 companies.
For more information about 360 Commercial Partners, please visit 360CommercialRE.com or call 949.296.3600.
# # #