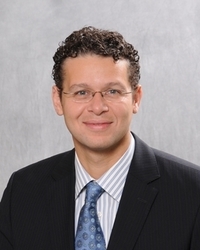 Top Doctors for the New York Metropolitan Area
Berkeley Heights, NJ (Vocus) October 18, 2010
Summit Medical Group is now offering consultations with and lectures by a leading bariatric surgeon, Muhammad Feteiha, M.D., F.A.C.S.
Dr. Feteiha has expertise in general and minimally invasive techniques, including advanced minimally invasive surgery, surgery for morbid obesity, laparoscopic colon surgery, and laparoscopic antireflux surgery. Dr. Feteiha is Director of Overlook Hospital Minimally Invasive Surgery. He is Founder and Former Chief of the Overlook Hospital Bariatric Program. Dr. Feteiha is the first surgeon to perform laparoscopic bariatric surgery in Union County, New Jersey. He has performed more than 1000 successful laparoscopic surgeries.
A native of New Jersey, Dr. Feteiha earned his BS in biology at Lehigh University in Bethlehem, Pennsylvania, and he earned his MD at Tufts University School of Medicine in Boston, Massachusetts. After graduating, he completed his residency in surgery at the University of New Mexico Health Sciences Center in Albuquerque. He completed his fellowship in minimally invasive and bariatric surgery at Columbia University College of Physicians and Surgeons/New York Presbyterian Hospital in New York City.
Dr. Feteiha has been listed multiple times in Castle Connolly's "Top Doctors for the New York Metropolitan Area" as well as in New Jersey Monthly's "Top Doctors". He is a recipient of the 2010 Overlook Hospital Physician Excellence Award. Dr. Feteiha is a fellow of the American Society of Metabolic and Bariatric Surgery. He is a Center of Excellence Bariatric Surgeon.
Dr. Feteiha will present a free monthly workshop on surgical options for weight loss. The workshops are offered Monday evenings at 7:00 p.m. in Summit Medical Group's Education Center at 1 Diamond Hill Road. This program will review details on specific surgical options and provide an overall description of the lifestyle changes that are necessary following this kind of surgery. Past patients will also share their personal experiences. For a schedule of workshop dates and registration information, please visit http://www.summitmedicalgroup.com/events.
ABOUT SUMMIT MEDICAL GROUP
Summit Medical Group (SMG) is the largest privately held multispecialty medical practice in New Jersey. SMG has pioneered information technology advances in health care with its early adoption of electronic health records and e-prescribing. With more than 200 highly qualified providers, it is one of the most unique health care models in the state. SMG has an award-winning customer service program and NJBiz magazine has named it one of New Jersey's "Fifty Fastest Growing Companies". SMG treats more than 55,000 patients per month at its main campus in Berkeley Heights as well as its satellites in Berkeley Heights, Morristown, Millburn, Shorts Hills, Summit, Warren, and Westfield. As one of the East Coast's premier multispecialty groups, SMG has provided exceptional primary and specialty care since 1929. For more information, please visit http://www.summitmedicalgroup.com.
# # #