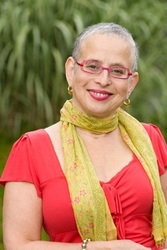 Her enthusiasm for creating community through her food and restaurants was obvious as was her can-do attitude and her grace and wit under pressure."
Seattle, WA (PRWEB) October 15, 2010
The Women Business Owners (WBO), Puget Sound's leading organization for women entrepreneurs, has named Seattle's Susan Kaufman of Serafina and Cicchetti restaurants (http://www.serafinaseattle.com) as the 2010 Nellie Cashman Woman Business Owner of the Year. Susan Huenefeld of Accents et cetera Gift Baskets was honored with the WBO Excellence Award. The awards were announced at a gala awards banquet on Thursday, October 14, 2010 at the Fairmont Olympic Hotel. The Nellie Cashman ('The Nellie') recognizes and honors women business owners who have enhanced the status of women entrepreneurs through their vision, perseverance, and fearless, relentless leadership in business and the community. Attendees at the gala were inspired by tales of moxie, creativity, ingenuity, compassion and courage from all the finalists.
"The quality of this year's finalists made it a really tough decision,' said Anne-Marie Faiola, CEO of Bramble Berry, 2009 Nellie winner and 2010 Nellie judge. "With Susan, her commitment to financial management really stood out. It's not easy to run a restaurant and start another one, all from existing capital. And to have a successful restaurant that is consistently profitable and full over two decades is a rare thing. Additionally, the fact that many of her staff are long-time members of her team speaks volumes about the type of company she runs. Her enthusiasm for creating community through her food and restaurants was obvious as was her can-do attitude and her grace and wit under pressure."
Kaufman, a native of New York, grew up eating all foods Italian. She is a born entrepreneur, having started her first business at the young age of 16. Her love affair with cooking, especially Italian, blossomed in her early 20's, after spending a year in Italy. This love affair begat two highly successful restaurants in Juneau, Alaska. During her ten years as chef/owner, Kaufman introduced Alaska to authentic regional Italian cuisine, from house-made pasta to freshly made gelato. In 1991, she opened Serafina in Seattle, which was an immediate success city-wide and has become nationally known. Serafina, now in its nineteenth year, is considered a Seattle institution, and has received many accolades and awards, including Best Italian, Most Romantic, Best Wine list, Best Outdoor Dining.
As a business owner, Kaufman has made well-timed decisions on personnel changes, expansions, remodels, and property acquisition to promote growth. Her most recent move was to purchase the building behind Serafina to open Cicchetti Kitchen and Bar. A strong proponent of the local and sustainable food movement, Kaufman resides close to the restaurants, where her kitchen garden is a source of herbs and vegetables for Serafina. Running her restaurants combines everything she loves: food, wine, community-building, taking care of people, indulging her creativity, and so much more. Kaufman's other full time job is raising her 13-year old daughter Isabella, guiding her into becoming a powerful woman in her own right. Kaufman lives true to the Italian idiom of bringing people together to share food and wine with family and friends.
The four extraordinary finalists were:
Barbara Bollinger, Senior Salons, LLC http://www.seniorsalons.com
Bollinger impressed the judges with how she found a small, under-served market and then capitalized on it with honesty and integrity. Dealing with seniors is an area where families really need to know that their parents and loved ones are in good hands and through Bollinger's systems and processes at Senior Salons, they can feel that way, even when Bollinger isn't on site.
Jody Hall, Cupcake Royale & Vérité Coffee Inc. http://www.cupcakeroyale.com
The judges commented that Hall's passion for community came through very clearly–both from her desire to go back to community coffee houses and with her commitment to donating to worthy non-profits. Additionally, she has grown her company without outside investment. She now has four locations, two opening in a recession. That takes great planning, a huge appetite for risk and an iron-fisted grasp of project details and management.
Andrea Heuston, Artitudes Design Inc. http://www.artitudesdesign.com
Heuston went through a health issue that made her business have to operate on its own without her. The mark of a great boss is if the workplace can carry on without her and not only did her business carry on, but her staff kept a good foundation so that when she was able to return, she could do so and build upon their successes, all of which impressed the judges. As did Heuston's commendable personal and company community involvement with both time and money.
Liz Lasater, Red Arrow Logistics http://www.redarrowlogistics.com
To run a trucking and logistics company is often thought of as 'man's job.' Lasater not only runs a logistics company but she runs one of the best ones in the country with incredible on-time delivery rates and numerous accolades for handling difficult and time-sensitive shipments. Red Arrow is one of the fastest growing women led business in America. The judges salute Lasater's incredible vision, drive, style and sense of humor.
Excellence award winner: Susan Huenefeld, Accents et cetera Gift Baskets, Inc. http://www.accentsetc.com
Huenefeld bought Accents et cetera, a ten-year-old gift basket business and retail store two weeks before September 11, and was abruptly thrown into a host of challenges. With the help of friends, she put together a part-time staff and weathered her first holiday season with the best results the business had ever seen. Now she revels in the synergy of ideas bouncing around her staff, in the challenge of coming up with new ideas every holiday – and in the joy on the faces of the recipients of her gift baskets, which she loves to deliver in person. It constantly amazes her that the gifts she makes can have such an effect.
"Huenefeld impressed us with her trajectory from stay-at-home mom to business owner and philanthropist in a short period of time," said Debbie Levitron, president WBO and Nellie judge. "She is committed to the community and both she and the company donates a significant amount of money, time, gift baskets, and food to local charities."
Excellence Finalist LeeAnn Huggins, Morgan Stanley Smith Barney. http://www.morganstanley.com/fa/leeann.huggins.
Huggins is a vice president and financial advisor at Morgan Stanley Smith Barney in Bellevue. Her mission is to educate her clients and demystify personal finance. She impressed the judges with her ethics and commitment to her clients.
About Women Business Owners
Women Business Owners (http://womenbusinessowners.org/) is Puget Sound's leading organization for women entrepreneurs. Our mission: to propel resolute women entrepreneurs to embrace their fullest vision of success. Beyond a great business referral network, WBO is a resource for inspiration, education, enduring relationships, and leadership development.
About the WBO Nellie
Since 1982, the Nellie Cashman Woman Business Owner of the Year Award has recognized and honored Puget Sound area women entrepreneurs who have made outstanding contributions to the status of women business owners through their leadership in business and the community.
The award, also known as the WBO Nellie, is the most prestigious and longest running honor of its kind in the region. Presentation of the award brings together more than 300 prominent local business and community leaders in a professionally organized and hosted awards dinner banquet to share the inspiration of our most prominent women entrepreneurs and business owners.
To qualify a nominee must own at least 51% of the business, gross more than $1million in annual revenue and have three or more employees. Candidates for The Nellie are judged based on their entrepreneurial spirit, ethics and community spirit, financial and management skills, and the difficulty and risk they have endured to achieve their success.
About Nellie Cashman
Irish-born Nellie Cashman was an American pioneer, philanthropist, entrepreneur and gold prospector. From the time she came west in the late 1860s, Nellie exhibited her unique style of courage, compassion, determination and spunk that made her one of the most famous women in the American West. She started as a mining camp cook and progressed to running a series of boardinghouses and ultimately owning restaurants and grocery stores.
From Tucson and Tombstone, Arizona, to Nevada and the Klondike, Nellie continued her life of prospecting, mining and business ownership until her death in 1925. She became as well known for her philanthropy as she was for being a rare woman to not only mine and prospect, but to lead veteran frontiersmen in mining expeditions.
It is the spirit of the pioneering Nellie Cashman that Women Business Owners salutes with our annual award in her name.
###