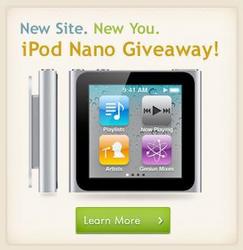 New Site, New You iPod Giveaway.
Tarrytown, NY (Vocus) October 15, 2010
Focus28 Diet is celebrating the re-launch of its website by hosting an online giveaway now through November 17, 2010, called "New Site, New You iPod Giveaway." When customers purchase any Focus28 high-protein diet foods or products ($9.99 or more) and use coupon code: F28IPOD, they will be entered into a drawing to win a brand new iPod nano ($179 value).
The iPod nano giveaway coordinates with Focus28 Diet's vision—that dieters can incorporate a quick, simple exercise routine into their daily lives in a fun and entertaining way. Focus28's redesigned site calls out its two-fold approach to weight loss: 10 minutes of isometric exercise combined with a high-protein diet. Named the Iso-Pro Fat Burning System, this obvious but uniquely packaged diet/exercise program promises to live up to its tagline, "Lose up to 10 lbs. in 28 days!" Dieters are offered metabolism-increasing strategies and a high-protein diet which translates into long-term weight loss success.
Focus28 also claims to offer the most affordable national weight loss plan. A 28-day medically-formulated diet menu costs $195.99 per month for the Women's Plan and $225.95 per month for the Men's Plan. Low-calorie high-protein foods in categories: Entrees, Breakfast, Soups, Protein Bars, Snacks, Shakes/Smoothies/Puddings, Hot/Cold Drinks and Baricare are also affordably priced a la carte.
Focus28 Inc. is located in Tarrytown, NY and has been offering a high-protein diet plan since 2007. Focus28 combines easy-to-prepare diet foods and simple exercise ideas for powerful results. The website extends dieters an online weight loss community with the latest news/ information, tips and inspiration. Focus28 experts include nutritionists, a fitness & lifestyle coach and an empowerment coach. Contact Focus28 Customer Support via email or at 1-877-824-2828.
# # #