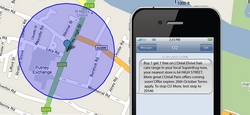 The market potential here is huge - it has already had massive success in the USA - and this is another nail in the coffin of the old model of reaching mass audiences in one go.
San Francisco, CA (PRWEB) October 15, 2010
O2 today becomes the first network provider to offer large-scale location-based mobile marketing in the UK, enabling brands to deliver relevant SMS and MMS to consumers in a more targeted, engaging and effective way than ever before. Starbucks and L'Oréal are the first brands on board for the six-month trial, which relies on consumers opting into the service to receive relevant messages dependent on their age, gender, interests and for the first time, their location. With the launch, O2 immediately enables the UK's favourite retailers and brands to reach over one million opted-in consumers on their mobile phones when they are in a mind-set to make a purchase. The service uses location-based technology known as "geo-fencing" to power the trial and is the result of O2 Media, O2's mobile marketing arm, partnering with Placecast, a Californian company whose tried and tested platform has transformed the mobile marketing industry in the USA.
Placecast's customers have included The North Face, quick-serve restaurant, Sonic Drive-Ins and American Eagle Outfitters. 65% of customers who were part of initial programmes made a purchase as a result of an SMS and MMS, and 60% of participants found the location-based messages to be "cool and innovative". (1)
The partnership combines Placecast's location-based experience with O2's customer base of over 22 million, its network and O2 Media's strong relationships with brands and ad buyers. It enables brands to target their audiences better than ever before and give consumers relevant and targeted information and offers.
Shaun Gregory, Managing Director of O2 Media, said: "The growth of location-based services will create a golden age for proximity marketing. It fuels a growing expectation among consumers for personalised advertising via their mobile phones that is directly relevant to their passions. The market potential here is huge - it has already had massive success in the USA - and this is another nail in the coffin of the old model of reaching mass audiences in one go."
How it works:
· O2 customers register by text on mobile or on O2 More's website http://www.o2more.co.uk, launched in December 2009, by inputting information about their age, gender and interests such as football, travel and cinema
· When opted-in O2 More customers are found to be within a geo-fenced area owned by Starbucks, those interested in food and drink receive an SMS offering them money off Starbucks VIA Ready Brew at a nearby branch
· When opted-in O2 More customers are found to be within a geo-fenced area owned by L'Oréal, customers interested in beauty receive an SMS offering buy one get one free on L'Oréal Elvive hair care products at Superdrug
· O2 protects its customers' privacy by not sharing data peer to peer
· O2 does not spam its customers with irrelevant or frequent SMS or MMS – opted-in O2 More customers only receive a maximum of one SMS (text message) or MMS (text+picture message) per day from O2 More
· Customers can opt out of the service at any time
· The service works on any mobile phone (not just smartphones) and does not need an app. It has no impact on battery life as all detection is done as part of the service O2 provides for voice and messaging
· The service is not available to customers aged under 16 years
Since its launch one year ago, O2 Media has provided personalized media opportunities for brands including Adidas, Cadbury, Blockbuster and Interflora by leveraging O2's unique customer data via O2 More. Success stories include a NatWest campaign that targeted its app at iPhone owners, which received a 26% response rate, while targeting families with teenage children gave Thorpe Park a near one-in-three download rate for its app. O2 Media has since expanded into new areas, like Top Up Surprises and Priority, to offer brands unique and innovative solutions that stand out from the traditional clutter.
Ray Conway, Starbucks UK & Ireland's director of Consumer Packaged Goods described their thoughts on the service: "Our experience as a pioneer in social media has taught us that customers want to find Starbucks in new ways. We're proud to be one of the first companies in the UK to use this innovative technology to offer discounts for customers who are close to supermarkets and our coffee shops where Starbucks VIA Ready Brew is sold."
Hal Kimber, head of CRM for L'Oréal is excited about the opportunity: "We're very pleased to be participating with O2 on the launch of this service. The opportunity to deliver timely, relevant communications to L'Oréal Paris' various target audiences through the platform is very exciting for us and the learnings will be invaluable for our CRM initiatives going forward. In future mobile will undoubtedly become one of, if not the key channels for developing consumer relationships and we are really excited to be working with O2 from the beginning on this."
Alistair Goodman, CEO of Placecast, stated the company's thoughts on the partnership: "O2 is one of the most innovative mobile carriers in the market and we are pleased to be partnering with it to bring location-based mobile marketing to the UK. The service allows consumers to go about their day and automatically alerts them when they are near a special offer available at their favourite retailers. This is truly marketing as a service to consumers, not an intrusion, enabling people to connect with brands at the right place and in real-time, all via their mobile phone."
About O2
· Telefónica O2 UK Limited is a leading communications company for consumers and businesses in the UK, with 21.6 million mobile customers and over 700,000 fixed broadband customers as at 30 June 2010.
· Telefónica O2 UK Limited is part of Telefónica Europe plc, a business division of Telefónica S.A. which uses O2 as its commercial brand in the UK, Ireland, Slovakia, Germany and the Czech Republic, and has 54.5 million customers across these markets.
· In 2006 Telefónica Europe acquired Be, the UK fixed broadband provider, and in October 2007 O2 launched its broadband service using the Be network.
· O2 is the naming rights partner of The O2, the world-class entertainment venue.
· O2 employs around 13,000 people in the UK and has 490 retail stores.
· O2 was ranked highest in customer satisfaction for both UK mobile and fixed broadband customers according to the J.D. Power and Associates UK Mobile and Fixed Broadband Studies 2010.
· O2 Home Broadband came top in 10 out of 11 categories in the uSwitch Broadband Customer Satisfaction Awards 2010.
· O2 was launched on 1 May 2002 and now has more customers than any other UK mobile network.
· O2's UK mobile network covers 99% of the UK's population. O2's 3G network covers over 84% of the UK population and is fully HSDPA-enabled, providing speeds of up to 7.2 Mbps for customers with an HSDPA-enabled device.
· Telefónica Europe also owns 50% of Tesco Mobile, which operates in the UK and Ireland, and 50% of Tchibo Mobilfunk in Germany.
· For further press information about O2 go to http://www.o2.co.uk/news
About Placecast
· ShopAlerts is an advertising service from Placecast, a pioneer in enabling highly targeted, uniquely effective advertising. Placecast was founded in 2005 and is based in San Francisco and New York. The company is funded by Voyager Capital, Onset Ventures and Quatrex Capital.
· Comprising a team of experts in digital marketing, mobile solutions and location technology, Placecast offers ShopAlerts as a white-label service for retailers and operators, and also licenses the Placecast Platform technology for the delivery of other types of location-based services.
· Placecast's ShopAlerts™ service is a location triggered mobile marketing solution, giving companies the ability to deliver highly relevant mobile messages in context—tied to place and time—to their customers. Through mobile operators implementing the service with their customers, retailers can leverage the technology to reach their customers when they are in a mind-set to make a purchase
· Since September 2009, ShopAlerts™ has run pilot programmes across the U.S. with several major retailers including SONIC® Drive-Ins and American Eagle Outfitters. Participants in the programmes were surveyed with the following results:
o 60% of participants found the location-based messages to be cool & innovative
o 79% said it increased their likelihood to visit a store
o 65% made a purchase as a result of a ShopAlerts™ message
o 73% of participants would definitely or probably use in the future
(1) Figures taken from Placecast ShopAlerts™ Pilot Studies 2009. More information on this can be seen here: http://placecast.net/research/Placecast-ShopAlerts-Pilot-Studies.pdf
# # #