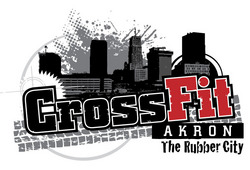 Just four short weeks of doing CrossFit, Trina was able to wear her pre-pregnancy jeans now, at 10 weeks with CrossFit Akron; Trina is in better shape than ever.
Akron, OH (PRWEB) October 15, 2010
Studies show that 1 out of 4 adults in the United States will be obese, if they continue on their downward spiral of eating unhealthy and living a sedentary life. 2010 government data estimated that over 60% of adults are overweight with a body mass index (BMI) of 25 and above. On top of that staggering statistic, a third of them are already considered obese with a BMI of 30 and above. With very little time in their schedules, American can be overwhelmed with all the fad diets and trendy workout routines. Most people just need a simple yet effective workout that takes very little time and still gets the results they are looking for.
Amid a society that's full of trendy fad diets and workouts that just don't work, CrossFit Akron offers a real solution. Its facility offers a distinct style of fitness training, pulling from multiple schools of training philosophies. Using the CrossFit method, members get bursts of exercise in a fraction of the time, typically 5 - 20 minutes. CrossFit Akron's coaching of high intensity workouts, combined with a healthier lifestyle, a strong community presence, and nutrition guidance will gives people the control and the results that they want for themselves.
Anyone at any fitness level can take advantage of CrossFit Akron's workout programs. It's growing in popularity because of the dramatic results from the workout. Based from a combination Olympic Weightlifting, sprinting, and gymnastics, CrossFit pushes each person to challenge their current fitness level, thus forcing their bodies to adapt and grow. The program boasts a wide variety of exercise routines and programming for Endurance Training in Akron, Ohio.
"CrossFit Akron is about RESULTS EARNED, plain and simple. CrossFit Akron workouts to lose weight will work for anyone. When the athletes (clients) have finished each session, they will learn something about themselves and feel invigorated, knowing or realizing how much they can truly accomplish when driven." says Josh Felber. Brian Parana states "CrossFit Akron is much more than a group of strangers looking to get fit. It is a community like family offering support and inspiration to achieve the highest levels of fitness one desires. Here, fitness is part of an everyday healthy lifestyle."
CrossFit works. Period. Experiencing this Trina, 42, delivered twins July 8, 2010 and began CrossFit Akron four weeks after delivery. Having not worked out in at least 8 months, Trina felt extremely out of shape both physically and mentally. Just four short weeks of doing CrossFit, Trina was able to wear her pre-pregnancy jeans now, at 10 weeks with CrossFit Akron; Trina is in better shape than ever. "CrossFit is very challenging but so much fun it pushes your limits to the extreme." states Trina. What you cannot do today is attainable tomorrow. I saw real results right away. Muscle strength and definition, extreme fat loss, a ton more energy and most workouts can be completed in 25 minutes.... that is so important when juggling a busy schedule with newborn twins, a two year old and working full-time."
"CrossFit Akron coaches are dedicated to your results," continues Trina. "This is what "working out" really feels like and is meant to be. If you love it, it is easy to make a habit of it. When you are achieving the results you want, it is easy to make it a way of life. I am putting on my size fours for the first time since having three babies.... And I'm not saying it was easy... But it was, and continues to be, motivational!"
Come celebrate with CrossFit Akron at their upcoming grand opening on October 23 between the hours 12pm – 4pm. For more details visit: http://www.akroncrossfit.com and see how you can be stronger, move faster, more efficiently, in every day life much easier than ever before. In addition, the grand opening also is aimed to raise money and awareness for the Wounded Warrior Project to support the injured service members of the United States military.
# # #