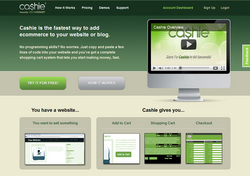 "Cashie lowers the barriers so that anyone can start monetizing their website or blog."
San Diego, CA (PRWEB) October 25, 2010
WebAssist, a leading ecommerce solution provider, today announced the release of a new ecommerce service called Cashie. The hosted service allows anyone to add professional grade shopping cart to their website or blog by just copying and pasting a few lines of code. Cashie leverages the PayPal X Developer Platform to enable PayPal and credit card payments and provide a streamlined checkout experience.
Hieu Bui, co-founder and president of WebAssist, said, "Cashie lowers the barriers so that anyone can start monetizing their website or blog. You no longer need to be a developer or coder to get rich, robust features. Cashie does all the hard work on the back-end so website owners can focus on their business and selling."
Cashie does not require any additional software to download or install so it works well with many popular web-publishing platforms such as Blogger, Yola, and Weebly. Cashie's ecommerce in the cloud technology also makes it easy to use with open source content management systems including Wordpress, Drupal, and Joomla. The only requirements to use Cashie are a PayPal account and the ability to cut and paste in a few lines of code into a website or blog.
Naveed Anwar, PayPal's senior director of the PayPal Developer Network, remarks, "We're pleased that a partner like WebAssist has chosen to build their new service using PayPal X. Cashie is another great example of innovative products and services that can be built on the PayPal platform. We're looking forward to seeing how website owners monetize their content using PayPal and Cashie."
Cashie is available immediately and customers can sign up for a free trial at http://getcashie.com.
About WebAssist
WebAssist is a leading ecommerce solution provider with over a decade of experience helping businesses transact online. WebAssist hosts a thriving community of over 300,000 web designers, web developers, and business owners who build and run ecommerce websites. Some of WebAssist's most prominent partners include Adobe, Microsoft, and PayPal.
Press Contact
Michael Lekse
Vice President, Marketing
press(at)webassist(dot)com
+1.858.768.6600 ext 111
# # #