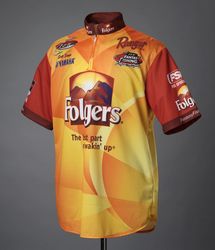 Making sponsors' logos the center of attention on an anglers jersey is what we do best.
Valencia, California (PRWEB) October 18, 2010
The Winning Team, the country's leading manufacturer of custom made tournament shirts, has announced its participation in the Walmart FLW Tour contingency award program. A cash prize of $300 for each of the 10 tour events and the Forrest Wood Cup during 2011 will be paid to the winning angler by The Winning Team.
"2011 marks the 18th year of The Winning Team being in business and our fifth year of being the official uniform supplier to FLW Outdoors. We couldn't think of a better way of saying thank you to the staff of FLW Outdoors and their number one asset – the anglers," said Harris Birken, President of The Winning Team, Inc. "Making sponsors' logos the center of attention on an anglers jersey is what we do best. With the revised logo policy of FLW Outdoors, The Winning Team will be able to help anglers prominently display their sponsors' good name."
Aaron Hall, Director of Angler Management with FLW Outdoors, said "The Winning Team has been a great partner of FLW Outdoors for many years and a relationship we look forward to continuing for years to come."
To be eligible for the contingency money the tournament winning angler must wear a Winning Team jersey on all days of competition. The Winning Team's logo must be displayed on the right sleeve and have been purchased between October 18, 2010 and November 1, 2011.
Custom made tournament shirts are easy to order. Anglers can build a garment online at http://www.thewinningteam.com and preview the design before placing an order. For those requiring a little more help, our art department can be utilized at no extra charge. Please call 800.310.8326 for more information on Dye Fusion tournament shirts by The Winning Team and to learn about current specials.
About The Winning Team
Based in Valencia, CA, The Winning Team stormed the performance apparel market in 1993 and has grown into an international brand, producing innovative apparel for athletes around the world.
The Winning Team has been the choice for those looking for something unique and fresh. We focus on fusing the creative influences from the world of action sports, lifestyle and fashion into all of our stylish performance products.
No matter what sport you are involved in or how hard you work, The Winning Team's designs, premium materials and advanced construction methods will give you the comfort to perform at your highest level. For more information about The Winning Team please contact Dyan Birken at (800)310.8326 or visit our website http://www.thewinningteam.com.
For complete rules and eligibility guidelines please visit our website at http://www.thewinningteam.com.
###