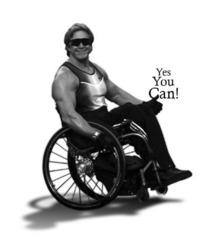 "Many people with disabilities are not dependents on this world but thrilling contributors!"
Houston, TX (PRWEB) October 16, 2010
Kevin Saunders, a gifted, highly sought after motivational speaker, brings his disability empowerment message to help NASA Space Center in Huntsville, Ala. celebrate disability hiring month.
"Talent Has NO Boundaries!," says Saunders. "Many people with disabilities are not dependents on this world but thrilling contributors!"
He'll emphasize that message with his compelling personal story. Injured in one of the worst grain elevator explosions in Texas history, Saunders used physical fitness to overcome brutal physical injury. Over the past 20 years, Saunders' achievements are unrivaled. He has won marathons, earned Olympic medals, served twice on the President's national physical fitness council and is planning an ambitious 50 state wheelchair tour to encourage kids to make healthy lifestyle-choices.
"My message is loud and clear. Hiring disabled workers isn't charity, it's a savvy business decision," said Saunders. "In overcoming great personal hardship, physically disabled workers bring an unmatched set of intangibles. Disabled people have the qualifications and the character to help any organization reach the stars."
Saunders will share his incredible story of 'Tragedy to Triumph' as well as inspiring accomplishments of other people with disabilities. He is one of America's top motivational speakers, and this event is one you won't want to miss!
One spring afternoon in Corpus Christi, Texas, where Saunders worked as a federal inspector, a cascading series of grain dust explosions catapulted his body over 300 feet in the air, over a two story building and he landed hard on his head and back in a concrete parking lot. In addition to the harsh physical injury, Saunders spirit and self-concept were badly broken as well. Through physical fitness and sport, Saunders reclaimed both his body and spirit. For more on Saunders' amazing story "Tragedy to Triumph" follow this link to his video: http://kevinsaunders.com/about.php
Saunders list of achievements is long and illustrious.
He is a three time Paralympian and World Champion. He has wheeled across parts of Europe as a physical fitness ambassador, earning a World Health Organization award in 2006 recognizing his dedication to fitness and health.
Kevin Saunders was the first disabled American to be appointed to the President's Council - Physical Fitness & Sports & Nutrition and he served under both President George H.W. Bush and President Clinton. He received many commendations for outstanding contributions to that Council. US Senator Pat Roberts of Kansas nominated Saunders to chair Presidents Fitness Council under President Obama, a nomination unanimously supported by the Kansas State Senate.
Recently, he formed the nonprofit corporation, "Fitness 4 All 50 State Tour," He plans to raise grant monies to fund this Herculean effort. Kevin & a team will travel to all 50 states, covering each state center, north, east, west, and south. His goal is to educate our nation's youth on the importance of education, good, balanced, nutritious meals, healthy snacks, involvement in fitness activities, sports, all in an attempt to motivate them to make healthier choices a habit for a lifetime.
Kevin will give the students he talks with "Student Daily Accountability Pocket Journals" which contain goal setting for what they want to reach and tips on making better, healthier choices.
Kevin Saunders
Website http://www.KevinSaunders.com
713-686-0077
kevin(at)kevinsaunders(dot)com
# # #