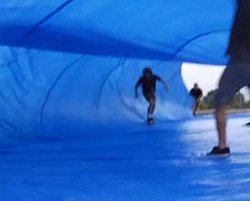 (PRWEB) October 15, 2010
Tarp surfing was created in 2009. Two southern Californian teenagers couldn't go surfing so they grabbed their skateboards, skated over to a hardware store and bought a blue tarp. They laid the tarp out in the street. As one boy skated over the tarp the other boy pulled the tarp over the skater, giving the appearance and feel for the skater as though he was surfing. Since then tarp surfing has become an international craze. Surfers and skateboarders skate over tarps for fun when they cannot surf or go to the skate park.
Tarps Plus saw a need for these tarps to be offered to skateboarders and the tarp surfing tarps are now here. The tarp company is known for its emergency supplies tarps usually used during a hurricane tornado or earthquake but recreational tarps are also a product line at Tarps Plus.
A spokesperson for the tarp company was stated, "The blue tarps have been a big hit with tarp surfers. Since we are all you leading tarp supplier we felt it was our duty to create a line of tarp surfing tarps".
Each tarp has a unique name with the size for example a large surfing tarp is the King Kamehameha and a smaller tarp called the Cali Pipeline.
The tarp surfing tarps are basically your regular blue tarp, although the size is specialized for the tarp surfing purposes. Tarp surfing tarps need to be long and a certain width. These tarps can range within the fifty feet wide to one hundred and fifty feet long.
The tarp surfing tarps can currently be bought online at tarpsplus.com or at the Tarps Plus store in Palmdale California.
Tarps Plus plans to expand its product line in 2011.
# # #