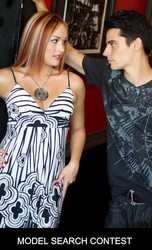 TattooApparel.com president, Clarissa Parashar says "It is important that the model have fun rocking the clothing during our photo shoots. To that end we have found that quite often the best models for us to use are our actual customers"
La Habra, CA (PRWEB) October 15, 2010
The National Model Search Contest begins October 15, 2010 and runs until December 16, 2010. TattooApparel.com staff will choose one male and one female winner from the contest entrants. Each Contest Winner will receive a trip to Southern California including airfare, four nights in a Hotel and they will take part in a Professional Photo Shoot for TattooApparel.com. The male model and female model will also each receive a wardrobe prize package valued at one thousand dollars. Four Runner Ups will each receive a one hundred dollar TattooApparel.com gift card.
The Fashion Prize Package includes clothing and accessories from several sponsors including T.U.K. Shoes, Femme Metale Sterling Silver Jewelry, Tres Noir Sunglasses, Rock House Clothing, Cartel Ink Clothing and Perpetual Vogue Clothing.
Professional photography services will be supplied by Painted Pinups Photography. The team at Painted Pinups is known for their Pin Up Style Photography but they also do product, catalog and lifestyle photography. Photographer, Chad Scott is great at putting new models at ease and making a TattooApparel.com photo shoot a fun event. Professional Hair and Makeup Services for the Rocker Style Fashion Photo Shoot will be courtesy of Primarily Hair in La Habra California and Makeup Artist Gianna Collica.
The winners will fly to Southern California on Saturday, January 22, 2011 and stay for four nights. The Photo Shoot will take place on Monday, January 24. Evening entertainment that is being planned include a night at the Improv Comedy Club in Brea and an evening at The House of Blues Anaheim. The contest winners will have a day to themselves to do as they please on Tuesday, January 25th before flying home on Wednesday, January 26th.
The Contest Winners will receive a disk with copies of the digital images shot of them during the photo shoot which they may use for their portfolio.
The Perpetual Vogue Store and their online store, TattooApparel.com specialize in fashions that are favored by musicians and anyone that enjoys cutting edge styles. Members of several Rock Bands are among the company's loyal customers across the globe. If you want to dress like a Rock Star without looking like you are trying too hard this is the place to shop. To best showcase their fashions the Southern California based Company likes to choose models that fit this type of style. This means that they often use their actual customers or members of local bands as models. This new National Contest allows Rockers from all over the Country the opportunity to win a trip to Southern California, a Photo Shoot and wardrobe prize package.
The company has several professional photo shoots each year at and around their Southern California location using local models. TattooApparel.com receives several emails each week from customers and aspiring models around the world and across the Country asking if they can model for them. This inspired the idea for having a National Online Model Search Contest where men and women across the United States could enter to win a prize package that includes being a fashion model for a fashion photo shoot scheduled to take place in January 2011.
The Contest is open to legal residents of the United States over the age of 21 who live in a State that permits contests. Void where prohibited. Employees of Perpetual Vogue, TattooApparel.com or any of the contest sponsors are not eligible. Anyone that has modeled for Perpetual Vogue or TattooApparel.com in the past is not eligible. See the Contest Entry Page and the Official Contest Rules Page for complete details.
###