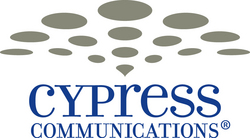 We are excited about this opportunity to enter into a merger agreement with a leader in unified communications as a service
Dallas, TX and Atlanta, GA (Vocus) October 15, 2010
Leading VoIP and unified communication service providers – Broadvox and Cypress Communications – announce the signing of a merger agreement. Award-winning hosted unified communications provider Cypress Communications is known for helping to define the unified communications as a service (UCaaS) category and has been providing hosted communications to small and mid-sized businesses and enterprises (SMBs and SMEs) for more than 25 years. As a worldwide communications leader, Broadvox has nearly a decade of experience in providing SIP Origination and Terminating services to carriers. In 2007, Broadvox began offering SMBs and SMEs various SIP Trunking products and this year expanded the offering with virtual PBX hosted services.
"We are excited about this opportunity to enter into a merger agreement with a leader in unified communications as a service," remarked Andre Temnorod, Chairman and CEO at Broadvox. "The new, combined company will be in a position to expand its ability of providing high-quality and innovative services to our target markets and this strength will be a key to our continued future success. While we look forward to finalizing the transaction, it's important for our customers, partners and other stakeholders to know that it is 'business as usual' at both Broadvox and Cypress Communications."
While both companies deliver a hosted VoIP and hosted unified communications solution, neither customer base is expected to be affected by the merger. Customers using Cypress' C4 IP product and those using Broadvox's GO!VBX will see no changes in their current feature sets, phones, or technology platforms. The Cypress C4 IP solution is ideally suited for enterprises, while GO!VBX primarily targets SMBs.
According to Stephen L. Schilling, CEO and President of Cypress Communications, "The merger positions the combined Broadvox and Cypress company as a broad-based market leader, serving both carriers, SMB and SME VoIP segments. The combined company will boast one of the largest VoIP networks and will continue to provide 24x7 support and service for the more than 10,000 business customers and hundreds of thousands of users each and every day."
Cypress will gain access to Broadvox's network backbone for direct origination and termination of voice traffic to more effectively serve the needs of its expanding customer base. Broadvox will benefit from the increased utilization of its network backbone and the ability to enhance its carrier, SMB and SME offerings with the Cypress Communications' unified communications suite of services.
The Breckenridge Group, Inc. and Iridius Capital Group acted as financial advisors in this transaction and King and Spalding and Calfee, Halter & Griswold LLP acted as legal advisors. The closing date of the merger is subject to certain terms and conditions customary for transactions of this type, including regulatory approvals. Finalization of the transaction is expected within 60-90 days. Because the two companies are privately held, no other merger details will be made available.
About Broadvox
Founded in 2001, Broadvox is a worldwide leader in providing integrated and managed VoIP services to SMB, enterprise, and carrier customers. It deployed one of the largest, full-featured, global VoIP networks, and is trusted by more than 300 telecommunications carriers, ASPs, ISPs, and over 3,500 businesses which transport more than 12 billion minutes annually. The Broadvox Network Operations Center, operating 24x7, provides the reliability, security, and quality of service necessary for the world's most discriminating customers. Broadvox offers SIP Trunking, SIP origination and termination services, and hosted communications solutions. Broadvox is headquartered in Dallas, Texas. For more information about Broadvox, visit http://www.broadvox.com.
About Cypress Communications
For over 25 years, Cypress Communications has been helping small-to-medium enterprises (SMEs) connect, communicate, collaborate and continue® with a range of fully hosted and managed voice, data and Internet solutions. Beginning in 2006, Cypress revolutionized the communications industry with its hosted VoIP and hosted unified communications solution, C4 IP, making it easy for SMEs to take advantage of productivity-enhancing technology such as integrated audio and web conferencing, multimedia collaboration tools, presence, chat, Microsoft® Outlook integration, and more. As a Deloitte Fast 50 and Fast 500 award recipient, Cypress is recognized as one of the fastest growing telecommunication companies in North America. The company has also been named one of Atlanta's Best Places to Work. Cypress has won a total of 26 awards for excellence and product innovation to date. The company's web address is http://www.cypresscom.net.
For more information, contact:
David Byrd
Broadvox
Vice President, Marketing and Sales
214-646-8004
dbyrd(at)broadvox(dot)com
Frank Grillo
Cypress Communications
Executive Vice President of Implementation, Support and Marketing
404-442-0103
fgrillo(at)cypresscom(dot)net
###