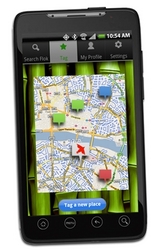 We tried to mimic the way that people meet people in the real world
New York, NY (PRWEB) October 19, 2010
Officially launched in open beta for Android, and coming soon to iPhone, Flok.to is a new way to look at location-based apps.
With major players like Facebook and Foursquare attempting to bring the data-rich world of social networking to your favorite places, Flok.to breaks new ground by extending the way real-world relationships are built and integrating that experience with mobile devices.
When you install Flok.to you answer three brief questions about yourself and select your profile picture; the entire process takes under two minutes. Now you're free to explore the power of this app by searching for people and places that match your profile. When you find someone or someplace you like, you can tag it from an extensive list of pre-defined terms. The result is a living tag cloud of what people think about each other and where certain social groups gravitate.
On Flok.to's suggestion engine Dekker Dreyer says,"We tried to mimic the way that people meet people in the real world. We sat back and asked ourselves a fundamental question, 'I have x number of friends on Facebook, but how did I meet them?' Very few people add strangers to their social network, so it's not practical for meeting new friends or finding new places. That's why we came up with Flok.to's matching system. It doesn't just tell me who my friends like or where they like to hang out... I already know all of that... it shows me new people who are frequenting the places I want to be."
In fact, Flok.to's patent-pending suggestion system might be the perfect way to find a new hot spot while you're on vacation or quickly make friends with similar interests when you move to a new town. The application can help you feel plugged-in like a local when you're miles away from home.
But when you're in your element, Flok.to's tagging functions are playful and powerful. They can be a barometer for how the world sees you or an expression of your self-image, all inside a game-like wrapper. Tags for people and locations are alive and dynamic; if a venue is dirty in Summer, but renovates in Fall, Flok.to will work like a visual "word of mouth" as the tag cloud evolves over time.
"The tags are fun, simple, and descriptive. There are also some hidden ones to unlock! It may feel like you're goofing around, but you're really building a complex identity for yourself and your friends. Flok.to users can see tags working in a variety of ways. Some apps will tell me fifty thousand people like the place, but how do I know they aren't maniacs? Using Flok.to I can see a real-time list of people inside the club and if I don't relate to them, I can save my cover fee and move to the next venue." Says Julia Hiroko Howe, community management expert and Flok.to co-creator.
Flok.to also makes privacy a priority. The developers took great care to create a tagging system that doesn't reveal anything you wouldn't normally display in the real world. Descriptive tags like "rocker", "artsy", and "geeky" can equate to the clothes you wear or the type of music you listen to. Because the tag cloud becomes more complex over time Flok.to can be very accurate with its suggestions without giving users the ability to over-share personal, or potentially dangerous information. It also doesn't broadcast where you are indiscriminately; users have to first match your profile and then be within a certain radius to find you. Flok.to safely guides you two steps ahead of your ever-changing social scene.
Flok.to was created by Julia Hiroko Howe (game developer and community management professional), Alison Lewis (author, techno-stylist, and one of Fast Company's Most Influential Women in Technology 2010), and Dekker Dreyer (filmmaker, artist, and new media pioneer). The application works internationally, integrates with Twitter and Facebook, and is available in an ad-supported free version as well as a $3.99 edition without advertising.
For more information visit http://www.flok.to
###