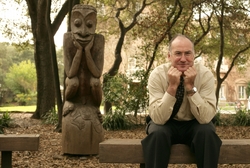 One good boss in the news, says Sutton, is Chilean mining foreman Luis Urzua who exemplifies all the good characteristics above and was told by the Chilean President Sebastien Pinera this week that he "acted like a good boss."
New York, NY (PRWEB) October 15, 2010
National Boss Day this October 15 is "a day for employees to thank their boss for being kind and fair," but Stanford Professor Robert Sutton, author of the current New York Times bestseller Good Boss, Bad Boss, says it's also a day to decide if your boss is worth being thanked.
To figure out if you have a good boss or a bad boss, Sutton shares these signs to look out for:
A Good Boss:
1. Serves as a human shield, protects employees from external intrusions, distractions, and idiocy of every stripe — and avoids imposing his/her own idiocy on them as well
2. Is aware of how his/her moods and actions affect employees and does not suffer from power poisoning or detachment
3. Has ambitious and well-defined goals, but focuses more on the small wins that enable their people to make a little progress every day.
A Bad Boss:
1. Passes the buck and takes all of the credit but none of the blame
2. Treats others as if they are idiots
3. Focuses on their own needs and concerns and acts as if the rules don't apply to them
One good boss in the news, says Sutton, is Chilean mining foreman Luis Urzua who exemplifies all the good characteristics above and was told by the Chilean President Sebastien Pinera this week that he "acted like a good boss."
To see read more on this please go to: http://www.psychologytoday.com/blog/work-matters/201009/boss-luis-urzua-and-the-trapped-miners-in-chile
Robert Sutton, Ph.D. is Professor of Management Science and Engineering at the Stanford Engineering School and author of the NYT bestsellers The No Asshole Rule and Good Boss, Bad Boss. He has been featured in the New York Times, The Wall Street Journal, and on "Today," NPR, BBC, PBS, CNN, CNBC, Fox, and Marketplace. He has written more than 100 articles for such publications as BusinessWeek, Harvard Business Review, The Financial Times, and The McKinsey Quarterly. For recent articles and more information, please check out: http://bobsutton.typepad.com/
# # #