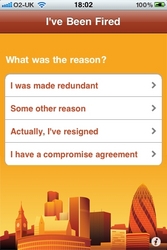 Facing a situation where your job is in jeopardy is extremely daunting. With this app,advice and assistance is on hand. The benefits to employees are obvious,I believe that employers may benefits too. Informed discussion means better communication.
London (PRWeb UK) October 15, 2010
HG Apps Store in collaboration with leading employment law consultant, Robert Joy have launched the app that all employees should have to hand, whatever their employment status. For that unfortunate moment when you get fired, made redundant or resign in haste from your job, I've Been Fired provides all the important advice and guidance. Employees will quickly be able to understand their rights, calculate what they are owed in redundancy payments and assess what they should do next.
With more than 10,000 redundancies announced in the last few weeks alone and a further 500k to 1m jobs expected to go in the public and private sector over the next few years, the unfortunate fact is that more and more of us will be faced with redundancy. I've been fired provides an excellent source of support information.
How does it work? You have been 'fired' - 'let go' -'terminated' – 'exited' there is no nice way to put it. Right now you may be sitting in an office or even a coffee shop wondering how to react, what to do next? For the price of a latte and less than a pint of beer you download the app from the Apple iTunes Apps Store to your iPhone and then click on it and it immediately gives you over 10,000 words of practical advice about the situation and your rights and entitlements. It tells you how to assess if you have been treated fairly compared to the acceptable standards of employment law and good practice. It also gives guidance about how to challenge your employer's decision.
Written in plain language I've Been Fired provides the first line of advice to arm the employee. This app provides a great overview but recognises that employment law is very complex and each situation may vary according to precise circumstances. Accordingly, employees are directed to sources of professional advice when appropriate.
Robert Joy, Employment Lawyer says "Facing a situation where your job is in jeopardy is extremely daunting. With this app, advice and assistance is literally on hand. The benefits to employees are obvious, but I believe that employers may benefits too. Informed discussion means better communication. "
I've Been Fired is launched and available for just £2.39 from the Apple iTunes App Store as a UK legislation app and can be downloaded to any iPhone, iPad or iPod Touch. Other smart phone formats will follow.
For more information, promo codes for review purposes and app images please contact Emma Chablo, Marketing Director, HG Apps Store on emma(dot)chablo(at)hgappsstore(dot)com or +44 7885 599066.
About HG Apps Store – http://www.hgappsstore.com
The HG Apps Store is the smartphone application development house with a difference.
HG Apps Store develops apps in partnership with people who have great ideas or content but aren't developers, sharing the risks and rewards. If it is a good idea, HG Apps Store will develop it for free, test it and then launch it, we can even help market it and will share the download revenues.
HG Apps Store also develops apps for businesses at competitive rates. Many businesses recognise now that they would benefit from having an app to add value to their customer and at the leading edge of customer communications.
The HG Apps Store has been created by a team of industry veterans, all experts in the software and application development field with a strong track record in building successful businesses globally. Our development, commercial and marketing team have extensive experience in the apps and software sectors and the ability to turn ideas into reality and revenue very quickly.
HG Apps Store is a Highgate Tech Fund Limited invested company – link here for more information http://www.highgatetechfund.com
About Robert Joy:
Employment Law Consultant – in business since 2002. Previously Robert was an in-house lawyer and employment relations specialist for a blue chip company. Advises individuals affected by redundancy and re-structuring programmes. Also, advises corporate clients and SME's.
###