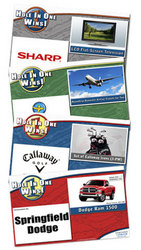 We are excited for this new improvement because we feel it is a big step towards better customer service and satisfaction
Bryn Mawr, PA (PRWEB) October 19, 2010
US Hole In One, a premier provider of hole in one insurance, has announced that it has unveiled a new online purchase feature. The new feature expands on the existing feature that allows customers to get a quote instantly. Customers will be able to get the hole in one insurance coverage quote as usual but will now be able to move on to purchasing the coverage of their choice instantly online.
Company CEO, Greg Esterhai is truly pleased at the progress that US Hole In One is making. "We are excited for this new improvement because we feel it is a big step towards better customer service and satisfaction," Esterhai said. The user interface is easy to use. To get your quote you simply have to enter the contest date, the number of golfers participating in the event, the yardage of the grand prize hole, the value of the prize you want to give away and the description of that prize.
Once the customer receives their on-screen quote, they will be able to view a detailed outline of what is included in the package. It will describe in detail how the prize package works with the complimentary bonus prizes for the remaining par 3's, signs for each prize hole as well as the Free Golf Club Certificates for every golfer in the tournament. The quote will display the different options that the customer requested so they can easily decide which will be the most cost effective option for their tournament.
By simply checking off which quote they have selected to move forward with, the customer will then be given the option to click the "Purchase Coverage Now" button. At that point they will be prompted to complete the rest of their golf tournament information, shipping information and provide their sponsor name(s) for the contest signs that come complementary with each and every prize package from US Hole In One.
US Hole In One is a leading provider of contest prize coverage for golf tournaments and other sporting events. Each year, US Hole In One and its sister company, Interactive Promotions Group covers over $350,000,000 in prize insurance for golf and other sports contests. Additionally, US Hole In One specializes in high-quality, temporary-use event sponsorship signage and offers thousands of promotional items to event organizers across the country.
# # #