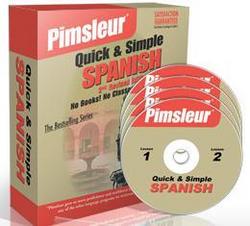 Philadelphia, PA (PRWEB) October 25, 2010
Pimsleur Approach announces the launch of a new online article resource center that offers aspiring language learners tips for mastering a new language quickly and easily. Using the resource center, visitors can assess their learning style and devise strategies to integrate a new language into their everyday activities, like cooking, exercising or working.
The language learning tips offer ideas for affordable, yet effective alternatives to traditional classroom language study. For instance, PimsleurApproach.com suggests joining online groups focused on learning a certain language, watching movies and television of another culture, or simply adding a foreign language into daily tasks by learning with a loved one.
The language tips emphasize that using everyday resources and integrating a new language into daily tasks is more effective than spending thousands of dollars on books and courses that won't guarantee language retention. The resource center, found at http://www.pimsleurapproach.com/Articles/_LanguageTips.htm, emphasizes that a new language can easily fit into anyone's interests—the arts, food, sports, or business.
For learners seeking a fast way to learn applicable conversational skills, the Pimsleur Approach offers the Pimsleur audio-learning program. Developed over 40 years of research by applied linguistics pioneer Dr. Paul Pimsleur, the Pimsleur method covers 40 languages and emphasizes accurate pronunciation and phrase recognition. The program prioritizes the most common and modern conversational elements so learners can immediately apply their skills and blend in among native speakers. When developing The Pimsleur Approach, Dr. Pimsleur drew inspiration from the way children learn to speak—by imitating others.
The Pimsleur approach operates according to a set of patented principles: Core Vocabulary using audio-based Organic Learning in order to replicate grammar and accent. In addition, Graduated Interval Recall boosts language retention by testing students on previously mastered words and phrases in varying intervals. Finally, Pimsleur's Principle of Anticipation prompts students to apply previously mastered material in order to advance to the next lesson.
According to the Boston Herald:
"The speakers have pleasant voices, each section within the lessons is short enough to hold our attention, and there is enough repetition to teach even those who consider themselves slow learners...Pimsleur tapes are extremely thorough and easy to use--quite lively!"
About Pimsleur Approach
Pimsleur Approach was founded in 2000 and specializes in low-cost, language learning courses. Developed by Dr. Paul Pimsleur, the company's audio-learning products feature 40 different languages, including Learn Spanish, Learn French, Learn Italian and more, and are utilized by the FBI and NSA. Pimsleur's research of organic language learning stemmed from the way children learn to speak without knowing the formal structure of a language. For more information, please visit http://www.pimsleurapproach.com.
# # #