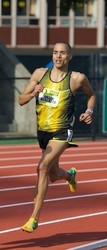 Little did Jordan know, those record-breaking visions were about to take an unexpected turn.
Carefree, AZ (PRWEB) October 25, 2010
Extreme Endurance is proud to announce the sponsorship of one of the best endurance athletes in the US, Jordan McNamara.
Jordan McNamara is tagged as one of the premier, US track and field athletes qualifying for London 2012. This NCAA All-American's journey has not been unlike other dedicated endurance athletes, but after reading and listening to his blog or "vlog", he stands out in his pursuit to make his dreams come true for the 2012 Summer Games.
While running at the University of Oregon and breaking the 4-minute mile, he saw his upcoming Senior year as one for the record books. He won the Oregon Preview 3000 meter race in a meet-record time of 7:53.63, covering the last mile in a blistering 4:04. All of the sacrifice, the endless physical and mental workouts he had filled his weekly journals with, was coming to fruition. He could taste a season of victory.
Little did Jordan know, those record-breaking visions were about to take an unexpected turn.
He had begun to experience mild foot discomfort and as he sat in his doctor's office he was presented with an endurance athlete's worst nightmare....located in his navicular bone was a stress fracture that only surgery could repair. As he choked back the tears and took hold of his situation, he realized that only he was in charge of his emotions. Jordan knew he had done everything he could have to succeed.
Now he made another decision. He could run with the one thing we all have - and that is attitude. Despair would not over take this elite athlete.
Jordan focused on his studies and his upcoming graduation as the track & field season slowly went by without him. As time passed, his fortitude did not, and one quiet evening while contemplating life's winding roads, he came to the simple conclusion, he was destined to try. Why not? He knew he had a stress fracture in his foot. His trainers and doctors would have preferred tying this endurance athlete to his desk chair if they could but his teammates and coaches knew what to expect from Jordan when he stepped back onto the track.
On the first training run since his diagnosis, Jordan was fully aware of the possible consequences. He also knew his collegiate track & field career was coming to an end without him. The risks involved were undeniable. Jordan had one broken foot and six short weeks but his dream of wearing the fabled Green and Yellow colors of his soon to be alma mater was not going away.
Jordan made the decision he was not ready to call it quits and as he crossed the finish line in the endurance race that qualified him for the 5,000 meters in the NCAA Championships, he knew he had made the best of the cards he was dealt with.
When asked after his finish if his foot was sore, he replied, "I made it. That's all that counts. I would be lying if I said I couldn't feel it".
Jordan McNamara gave it all he could - and then some. He exemplifies the love of running and endurance sports. This fine-tuned, precision athlete had made a career of sacrifice. He had trained twice daily, through freezing rain, driving wind, bitter cold and solitary nights. He had given up his social life as his college peers racked up the wild stories and blurred memories. To achieve his dream of becoming the best in his sport, he had gone the distance in his workouts and body preparation, not missing one detail that would allude him a chance at victory.
Jordan's perseverance and perfection to detail in sport is what has drawn Extreme Endurance, an endurance supplement, to showcase and sponsor him as exemplary athlete and role model. Extreme Endurance (http://www.xendurance.com) is a sports nutrition company located in the US and the EU (under the name Xendurance.)
Extreme Endurance has gone the extra mile in developing a product that has a double-blind, placebo-controlled, clinical study that has been published in the European Nutraceutical Journal, March 2010, and is tested drug-free by the largest sports lab in the world, HFL. No one in the world can say they have a product this unique. Their number one sports supplement formula, called Extreme Endurance, has been proven to reduce lactic acid by 15% and increase aerobic threshold by double-digits.
Extreme Endurance is very proud to announce the sponsorship of Jordan McNamara, and will be by his side as he competes to qualify for London 2012. http://www.xendurance.com.
# # #