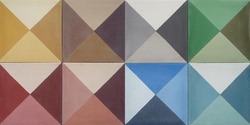 Los Angeles, CA (PRWEB) October 18, 2010
Granada Tile's mastercrafted, handmade cement tiles now offer thousands of customizable, unique possibilities. Designers, architects, and homeowners can easily customize their favorite tile designs with the online Echo Collection catalogue and within minutes create their own tailormade custom tile for their resort, spa, restaurant, café, kitchen, bathroom, living room, entryway, pool or patio.
The 40 new tile designs reflect a modern aesthetic, inspired by Calder, Matisse and Japanese quilting. There's Marbella with the square perched at an angle ready to fall over and Leda with its circle rolling within a larger sphere: both share Alexander Calder's fascination with moving geometry. Then there's the exotic Matisse-like sensuality of Istanbul, Esfahan and Torino with their sinuous curves and interlocking patterns.
With a nod to historical designs with a modern flair, Granada Cement & Concrete Tile has also included startling modern, 200-year old Japanese embroidery patterns. This group of sashiko patterns includes Nara, Kyoto, Kitami and Hokkaido, all named to give homage to their Japanese lineage.
The expanded color palette includes 4 new shades to evoke the sea: mist, aqua, turquoise and teal. Jade and olive have mellowed the green selection, and dawn and midnight have provided low and high notes of blue. Latte, copper and espresso offer cozy, rich tones. Shell and rose provide calming, cheerful companions to the more intense coral and cordoba reds. Last but not least, silver adds an elegant shade to the greytones.
The interactive online tile catalog invites users to become creators. With any of the 140 designs, a website user can drag one of 32 colors into a particular area of the tile, repeating this process until the tile design is complete. During each stage of this process, the budding Granada Tile designer can see the effect of the color changes in a carpet of tile, an entryway and a bathroom.
GRANADA TILE — MODERN CEMENT TILE
For those who find so many custom tile options dizzying, Granada Tile offers ten In Stock tile patterns drawn from customers' favorites. In addition to being tried and true, the In Stock tiles have the advantage of being immediately available for pick up or shipping from Granada Tile's warehouses in Los Angeles and Miami.
Retailing for $7 to $20 per square foot, the Echo Tile Collection is sold on the company's website at http://www.granadatile.com and by phone at 213.482.8070.
About Granada Tile
Based in Los Angeles, Granada Tile creates sensational, handmade, eco-friendly cement and concrete tiles. Working closely with architects and designers, Granada Tile strives to capture the customer's creative vision through cement tile.
Top tier designers and architects (including Tihany Design, Zeff Design, BAMO, Shubin + Donaldson, and Bestor Architecture) have selected Granada Tile for their resorts, spas, restaurants, and offices. Homeowners and interior designers have chosen Granada Tile for their kitchens, bathrooms, living rooms, pools, patios on the floors and walls.
While producing cement tiles at the family's production facility in Nicaragua, Granada Tile lives up to its commitment to be environmentally friendly by managing resources responsibly and not contributing to landfills or using toxins.
# # #