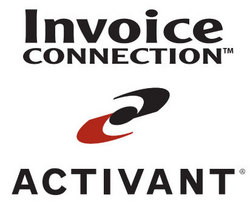 This relationship with Invoice Connection enables Activant to offer its customers an excellent solution for all of their invoice needs at a significant cost savings.
Carlsbad, CA (PRWEB) October 16, 2010
Carlsbad, CA and Yardley, PA -- Activant Solutions Inc., a leading technology provider of business management solutions for distributors and specialty retailers, and Invoice Connection (a Division of Vision InfoSoft Corporation), a leading provider of invoicing services announced that Invoice Connection is now the preferred invoicing service for users of Activant's Prophet-21, Eclipse, Prelude and Array software products. After a thorough review of the marketplace, Activant concluded that "outsourcing" of invoicing services provides immediate cost savings for their customers, and that Invoice Connection is the best solution for these users.
"This relationship with Invoice Connection enables Activant to offer its customers an excellent solution for all of their invoice needs at a significant cost savings", said Frank Heenan, Director of Product Management and Marketing for the Wholesale Distribution Division of Activant, "After watching a number of our users adopt the Invoice Connection solution over the last few years, we have seen first hand the savings that they have achieved and their extremely high level of satisfaction with the service they received. We are very comfortable recommending this solution to our clients which will help them to maximize profitability."
Kiptyn Locke, Vice President of Sales and Marketing for Invoice Connection stated, "We are very excited about our new relationship with Activant. The wholesale/distribution industry is one of our key markets, and Activant is clearly the leader in providing software solutions for these customers. This new partnership displays our mutual interest in improving Activant customers' operations and bottom lines.
Locke went on to say, "This announcement is only the beginning of an expanded partnership with Activant. Over the coming months, we plan cooperative development efforts which will provide increased integration of our product offerings which will further benefit the businesses of our mutual customers."
The Activant-Invoice Connection partnership is effective immediately, and all Activant customers are encouraged to consider Invoice Connection as their invoice delivery partner.
Questions regarding Invoice Connection may be directed to Kiptyn Locke, Vice President of Invoice Connection. He may be reached at klocke(at)invoiceconnection(dot)com, or via his direct line 760-444-8520.
About Activant
Activant provides technology solutions and services to more than 4,200 wholesale distributors throughout North America. A leading technology provider for the distribution industry, Activant develops comprehensive enterprise software solutions to help distributors improve customer service and maximize the return on their technology investment. In addition, the company offers an Internet trading network that expedites sourcing, expands geographic reach, and streamlines transactions between distributors and manufacturers. Activant solutions are backed by a host of professional services, including support, consulting, and educational programs.
Activant Solutions Inc.™ ("Activant") is a leading technology provider of business management solutions serving small and medium-sized retail and wholesale distribution businesses in three primary vertical markets: hardlines and lumber; wholesale distribution; and the automotive parts aftermarket. Founded in 1972, Activant provides customers with tailored proprietary software, professional services, content, supply chain connectivity, and analytics. More than 30,000 customer locations use an Activant solution to manage their day-to-day operations. Headquartered in Texas, Activant has operations in California, Colorado, Connecticut, Illinois, New Jersey, Pennsylvania, South Carolina, Utah, Canada, France, Ireland, and the United Kingdom.
For more information, please visit http://www.activant.com.
About Invoice Connection
Since 2004, Invoice Connection customers have discovered that automating their invoice and statement delivery has saved them time and money while eliminating errors. Invoice Connection ensures prompt delivery of invoices with four delivery options; US Mail, Fax, Email, and the Internet. Invoices and statements are always available online via the powerful Online Invoice Manager tool where customers can view, print, re-send, pay or directly import their invoices and statements. With a growing customer base Invoice Connection has expanded to offices both on the East coast and West coast. Invoice Connection attributes their success to consistently putting the customer first and promptly responding to all customer needs whether common or unique. Maintaining valuable relationships with associations and strategic partners will remain a core focus of Invoice Connection as the company continues to grow. For more information, go to http://www.InvoiceConnection.com.
Sales Contact
Contact: Kiptyn Locke
Phone: 800-594-7044, ext.520
E-mail: klocke(at)invoiceconnection(dot)com
Media Contact
Contact: Derrick Delliquadri
Phone: 800-594-7044, ext.521
E-mail: ddelliquadri(at)invoiceconnection(dot)com
###