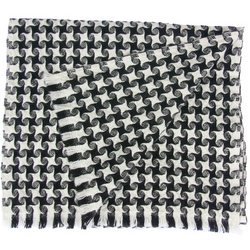 Cashmere pashminas...are the perfect way to show school spirit and still look classy when it's cold outside.
Houston, TX (PRWEB) October 18, 2010
As football season goes into full swing and the temperatures drop, finding the perfect "game day" outfit just got easier. The Pashmina Store's team-inspired selection of pure, Grade A cashmere pashmina wraps, scarves and blankets keep a girl cozy, comfortable and fashionable whether she's wearing jeans or a dress to her favorite team's game.
"Dressing up for football games has long been tradition for the women fans of the southern athletic conferences. Nothing is softer, warmer or more luxurious than our 100% pure cashmere pashminas. They're the perfect way to show school spirit and still look classy when it's cold outside," said Blair Rhodes, co-owner of The Pashmina Store. "Our houndstooth scarves are a top seller among Alabama fans this year."
This football season popular options from The Pashmina Store include:

University of Alabama – The Bear Bryant-inspired, classic black and white houndstooth printed scarf, which pairs beautifully with crimson. Roll Tide!
University of Georgia – The Southern Belles of Georgia can look even more ladylike by cozying up in The Pashmina Store's red and black wraps. Go Dawgs! And what could be a better addition to game watching than a cashmere red, black and white blanket?
Auburn University – Tiger fans have a tough time choosing between cashmere blue and orange pashmina scarves and wraps. Wear both!
Ole Miss – Rebels rejoice in classic red and navy wraps and scarves. Fans can try belting a lighter-weight silk-blend Midnight blue scarf with a red dress or vice versa.
University of South Carolina – Gamecocks can go the garnet way in a Scarlet shawl with a black dress.
Florida State University - Noles will be knockouts pairing a yellow wrap with garnet.
TCU – The Horned Frogs never looked so good. Who can resist wearing posh purple cashmere on all-black at the next game?
The University of Texas – Longhorns can mix luxe layers and boots with a burnt orange scarf, wrap or blanket. Hook 'Em Horns!
The Pashmina Store's wraps and scarves are offered in more than 50 colors in multiple weights and sizes, giving something for every fan, whether they're cheering on their favorite high school, college or pro team. For extra warmth cashmere blankets in 24 colors make a great gift for someone who likes to watch the game in style and luxury.
About The Pashmina Store
Since 2001, The Pashmina Store has been proud to offer the finest quality pure pashmina and pashmina/silk blend shawls, wraps, scarves and cashmere blankets. Customers enjoy the entire experience with quality products at exceptional values, free standard shipping in the U.S from Texas, and a satisfaction guarantee.
# # #