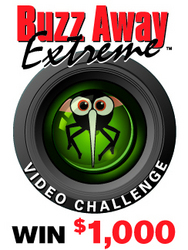 "Viral videos featuring weird and funny scenarios about mosquitoes. Fantastic!" David Shaw, CEO, Quantum Health
Eugene, OR (PRWEB) October 18, 2010
Quantum Health, the sponsors of the Buzz Away Extreme Video Challenge, announced the ten finalists who will compete for the $1,000 Grand Prize as well as the $250 winner for 'most viewed' video. Buzz Away Extreme is the leading all-natural insect repellent.
The Grand Prize winner will be chosen by voters who make their way to the contest's web site at: http://www.quantumhealth.com/videocontest/vote. Votes must be cast by midnight October 31st.
The 'Most Viewed' prize of $250 was awarded to Theresa Golb for her piece entitled "Fifty's Buzz Away Commercial". Her video is also in the running for the Grand Prize. Theresa is 19 and lives near Chicago, where she is a Communications major with plans to be a writer/director.
The ten finalists were chosen by a panel of judges including advertising, film, music and performing arts professionals.
Unlike most contests sponsored by product makers, the entrants were not required to show or use the product. "Showing Buzz Away was optional," explained company CEO, David Shaw. "We wanted entrants to feel free from commercial constraints to foster more creativity," Shaw added.
About thirty people submitted videos from ages 13 and up. Storylines ranged from apocalyptic science fiction mosquito dominated worlds, to super hero Mosquito Man to clever animation and spoofy commercials.
Buzz Away Extreme is an all-natural, highly effective, chemical-free way to repel mosquitoes, ticks, flies, gnats and no see ums. Independent clinical and field testing show that Buzz Away Extreme can last for 4 hours and more, and is as effective as many traditional, chemical based formulas. Years of customer satisfaction have made Buzz Away Extreme America's leading natural mosquito repellent.
Quantum Health – Natural Products That Make a Difference – is a natural over-the-counter (OTC) products company founded in 1981. Key brands include Lip Clear Lysine+ for cold sores, Canker Cover for canker sores, OraMoist for dry mouth, Thera Zinc and Elderberry for cold and flu, Buzz Away natural insect repellents, Quantum Derma for skin rescue and Super Lysine+ for immune support. Based in Eugene, OR, Quantum makes more than 50 products that are available throughout the United States and Canada in food, drug and mass market retailers, as well as health food stores and online. Call toll-free at 1-800-448-1448 or visit http://www.quantumhealth.com.
# # #