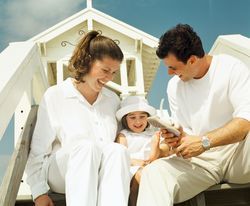 "With approximately 37% of California being Hispanic or of Latino origin, we are very excited about serving a community we had not been able to before." - John Hansen, CEO of KaiserQuotes.com
Santa Rosa, CA (PRWEB) October 18, 2010
¡Se habla español! Spanish is now spoken at KaiserQuotes.com. KaiserQuotes.com, one of the top brokers for Kaiser Permanente, which is the leading HMO (Health Maintenance Organization) in the United States, is pleased to announce the addition of Angie Perez to its corporate office in Santa Rosa, CA. Being fluent in English and Spanish, Ms. Perez will enable KaiserQuotes.com to better-serve a large Hispanic population in California, as well as in Georgia and Colorado. "With approximately 37% of California being Hispanic or of Latino origin (per the U.S. Census Bureau), we are very excited about serving a community we had not been able to before," said KaiserQuotes.com CEO, John Hansen.
Ms. Perez is well known in the Latino community of the Bay Area, especially in the city of Santa Rosa. She has been part of various Hispanic venues. She has worked with Free to Be and continues to work with La Familia Unida. As a parent-educator and support to bilingual parents, she has promoted the importance of healthy communication in the family. Now, Ms. Perez will be able to add Individual Health Insurance Quotes to the repertoire of support she gives to the Latino community.
Ms. Perez is a first-time supervisor. In her new role, she will oversee KaiserQuotes.com's staff of experienced benefits specialists in assisting consumers with their health insurance needs. Additionally, she will help develop benefit presentations that will make the Kaiser Permanente plans for Individuals/Families and Small Groups more accessible and user-friendly for Spanish-speakers. "Angie is wonderful with people. Also, she is an enthusiastic and passionate advocate for Latinos. I anticipate great relationships forming with both our internal and external customers," said benefits specialist, Bessie Starkey.
When asked about her new role, Ms. Perez commented, "I am always excited to bridge communication gaps for our Spanish speaking community. They are a great asset to this country, and I am happy to honor their efforts in the community by offering them the information they need in a manner they can understand." She added later in Spanish, "¡Es con mucho gusto que estoy aquí para servirles! Agradezco el trabajo que nuestra comunidad latino ofrece a este país y estoy trabajando junto con KaiserQuotes.com para darles la información correcta. Doy gracias a KaiserQuotes.com por darme la oportunidad." In English, that would be, "It is with much pleasure that I am here to serve you. I appreciate the work that our Latino community offers this country and I am working together with KaiserQuotes.com to give Latinos the correct information. Thank you KaiserQuotes.com for giving me this opportunity."
About KaiserQuotes.com
KaiserQuotes.com offers free instant health insurance quotes online for individual and group plans along with enrollment assistance for Kaiser Permanente health insurance coverage. It is a convenient resource for information on Kaiser Permanente insurance all in one place, and now offers bilingual services in English and Spanish. On September 28, 2010, KaiserQuotes.com added Colorado Business Health Insurance to their product offerings.
# # #