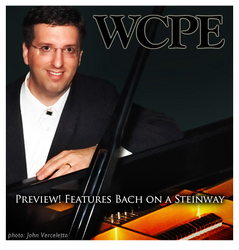 This is an autographed copy of the first Steinway release...It's a great way to own a piece of music history.
Wake Forest, NC (Vocus) October 17, 2010
WCPE's Preview! host Paul Jordan will offer a special CD, 'Bach on a Steinway', October 17, 2010 during the Fall Festival. This is the first recording on a new label from Steinway and Sons, performed by Jeffrey Biegel. It will be a Thank You Gift for a pledge of $100.
It gets better.
For a pledge of $150, the performer has graciously offered to autograph a copy.
"This is an autographed copy of the first Steinway release", says Jordan. "It's a great way to own a piece of music history."
The album was engineered and produced by 15-time Grammy winner Steven Epstein at the Performing Arts Center at SUNY Purchase. It was performed by Biegel on a specially selected Steinway Model D Grand Piano. His approach to these pieces was to imagine what Bach would have produced had he access to modern pianos.
Here is a link to a video about the project.
WCPE's 24/7 live broadcast of Great Classical Music, 24 Hours A Day can be accessed around the globe in several ways; on-line streaming in multiple formats, including IPv6, small dish home satellite reception, local cable television systems and traditional radio broadcasting. A complete list of the ways WCPE is available with instructions for cable and satellite reception can be found at: http://theclassicalstation.org/listen.shtml.
About Jeffrey Biegel:
Until the age of 3, Mr. Biegel was unable to neither hear nor speak, until corrected by surgery. The 'reverse Beethoven' phenomenon can explain Mr. Biegel's life in music, having heard only vibrations in his formative years. The career of pianist Jeffrey Biegel has been marked by bold, creative achievements and highlighted by a series of firsts: He initiated the first live internet recitals in New York and Amsterdam in 1997 and 1998, and, in 1999, assembled the largest consortium of orchestras (over 25), to celebrate the millennium with a new concerto composed for him by Ellen Taaffe Zwilich, whose 'Millennium Fantasy for Piano and Orchestra' was premiered with the Cincinnati Symphony Orchestra in 2000. Mr. Biegel is currently on the piano faculty at the Brooklyn Conservatory of Music at Brooklyn College, a City University of New York (CUNY) and the Graduate Center of the City University of New York (CUNY). He resides in New York with his wife, Sharon, and their sons Craig and Evan.
About WCPE:
With a 30 plus year history, WCPE 89.7 FM is a non-commercial, 100 percent listener-supported, independent station dedicated to excellence in Great Classical Music broadcasting. Community-minded business underwriters and foundations are among the 150,000 listeners in the North Carolina broadcast area. General Manager Deborah S. Proctor's leadership has enabled the WCPE community to include national and worldwide listeners. Big and small dish home satellite transmissions serve North America. Other radio stations and cable television systems use these services to rebroadcast Great Classical Music, 24 Hours A Day. WCPE is one of the first public broadcasters to stream on the Internet. WCPE is heard worldwide on the Internet in multiple formats, including the next generation IPv6. Because WCPE receives no tax-derived support, the station conducts two on-air fundraising campaigns and two major mail-out campaigns per year to raise needed operating funds. For more information, visit http://www.TheClassicalStation.org or call 919-556-5178.
###