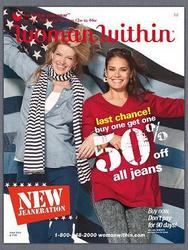 We are excited about these iPad applications as they offer convenience to our customers who are looking for easy-to-use mobile technology to browse our e-catalogs and purchase plus-size apparel from some of the most well-known brands in the industry, 24/7
New York, NY (Vocus) October 17, 2010
Woman Within®, Roaman's®, Jessica London® and KingSize®, plus-size brands in the portfolio of Redcats USA's OneStopPlus.com® division, continues its commitment to innovation, selection and convenience with the launch of four iPad applications – one for each of these plus-size apparel leaders. Customers who want fast and easy access to the WomanWithin.com, Roamans.com, JessicaLondon.com and KingSizeDirect.com websites can now search for the latest styles and trends and purchase directly from their mobile device.
The iPad applications are feature-rich at-your-fingertips tools allowing customers quick and convenient access to thousands of items. The applications are e-catalogs designed to take advantage of the iPad's ability to easily view content and browse through products. Customers can peruse beautiful pages and fashion spreads, double tap on items for additional information, look at alternate product views and buy directly from the application. Even more, the apps link to each brand's Facebook, Twitter, blogs and YouTube videos.
Convenient size charts are available for customers who need help with size recommendations, and fashionistas can rate products and add them to their Wish List directly from the application. Still not enough? Shoppers can share 'favorites' with friends and family via email or social networks, view multiple colors on select products with Swatch Match and view slideshows with Photo Session. Some catalogs will even incorporate audio and video.
"The Woman Within®, Roaman's®, Jessica London® and KingSize® teams are excited about these iPad applications as they offer convenience to our customers who are looking for easy-to-use mobile technology to browse our e-catalogs and purchase plus-size apparel from some of the most well-known brands in the industry, 24/7," said Stephanie Sobel, President of the OneStopPlus.com® division. "We are creating a mobile shopping experience that is simple, fast and enjoyable."
Customers can download the Woman Within®, Roaman's®, Jessica London® and KingSize® iPad applications from iTunes for free by simply searching for "woman within" or "roamans" or "jessica london" or "kingsize" (respectively) and installing like any other application. Once downloaded, the customer can browse the catalogs offline. The applications will be consistently updated with the latest functionalities and newest catalogs from each brand.
About Redcats USA
Redcats USA is a dynamic, multi-channel, web-driven home-shopping leader, with numerous successful brands in its portfolio: AVENUE®, Woman Within®, Jessica London®, Roaman's®, KingSize®, and BrylaneHome® sold on OneStopPlus.com®, The Sportsman's Guide® and The Golf Warehouse™. Redcats USA offers a wide range of value and quality driven merchandise categories, including men's and women's plus-size apparel, home and lifestyle products, and sporting goods/outdoor gear. Redcats USA is a Redcats company.
About Redcats
Standing at the forefront of fashion, design and e-commerce, Redcats brings together 15 brands in home shopping: Avenue®, Woman Within®, Jessica London®, Roaman's®, KingSize®, BrylaneHome®, OneStopPlus.com®, The Sportsman's Guide®, The Golf Warehouse™, La Redoute, Vertbaudet, Cyrillus, Somewhere, Daxon and Ellos, present in 30 countries. Redcats generated 3.386 billion euros of sales in 2009, including 47% on Internet and employs approximately 16,000 associates. Redcats distribution network combines e-commerce web sites (more than 60) catalogues and stores (more than 600). Redcats is a PPR Company. For any further information: http://www.redcats.com
Contact Information
Karen Davis
Corporate PR & Communications
Redcats USA
Karen(dot)davis(at)redcatsusa(dot)com
212-502-9315
###