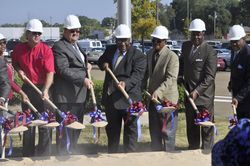 Jackson, MS (Vocus) October 15, 2010
The Jackson Medical Mall Foundation broke ground on two new construction projects during a ceremony on Thursday, October 14, 2010 held at the Jackson Medical Mall.
American Medical Response, a long time tenant of JMMF, is planning to expand their current operation with a new and updated facility. The proposed site is on Melvin Bender and will serve as an anchor for the District's northern corridor.
Also, Save-A-Lot Grocery Store chain, JMMF's newest tenant, will eliminate the "food desert" issue for the immediate community. The new grocery store will be located on the corner of Bailey Avenue and Woodrow Wilson.
The combined development will create approximately 180 new jobs, promising to boost the local economy.
In July 2010, JMMF launched a new housing development to build affordable, single family homes off Woodrow Wilson Drive.
Photo attached: Groundbreaking Ceremony, left to right: Lori Greer (JMMF), Dan Myers (Save-A-Lot), Ed Powers, (AMR), Primus Wheeler (JMMF), Dr. Aaron Shirley (JMMF), Mayor Harvey Johnson, Jimmy Robinson
# # #