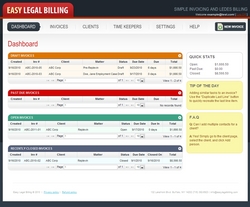 "...a web-based solution that is simple, scalable, standardized and secure."
Buffalo, NY (PRWEB) October 26, 2010
To help simplify billing for law firms of all sizes, Cypress North Inc. launched EasyLegalBilling.com, a web-based billing application designed specifically for legal practices. Easy Legal Billing is centered around the Legal Electronic Data Exchange Standard (LEDES) and allows for firms to easily create and attach LEDES files along with legal invoices.
The LEDES format is the accepted standard for e-billing between corporations and law firms, yet the creation of LEDES files has been a challenge for many firms. EasyLegalBilling.com helps solve this challenge with a web-based solution that is simple, scalable, standardized, and secure.
Beyond LEDES formatting, EasyLegalBilling also offers unique features geared toward simplifying the overall billing process. Invoices can be sent by e-mail - with a LEDES file as an attachment if necessary - or they can be printed and sent via regular mail. In addition, pro members can customize their invoices with a logo and can also generate PDF invoices for download or attachment.
Additional features include:

Detailed invoice and comment history for each invoice for easy bill-by-bill tracking.
Time tracking feature to quickly inject billable expenses or activities directly into invoices.
The ability to log-in from any internet-connected computer - no software or downloading required.
Customized reminders can be sent to tardy clients, and unlimited legal matters can be billed for each client. Time records can be converted into new invoices or be added to existing invoices.
An up-to-date legal billing blog that features problem solving posts for legal billing issues, software updates, and general legal billing information and updates.
EasyLegalBilling.com offers two different versions of the software, a basic version and a full featured professional version. The pro version allows for unlimited invoicing and greater customization, but all users start with a free 30 day trial account - no credit card required.
About Cypress North Inc
Founded in 2010, Cypress North is a New York based start-up that is focused on creating helpful web applications. Cypress North has a focus on leveraging cutting edge technologies to increase usability and performance for web-based software.
###