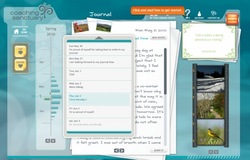 Everyone should have access to a secure, comfortable place where they can capture their thoughts, feelings and experiences and reflect on them
San Francisco, CA (PRWEB) October 19, 2010
It's no secret that keeping a journal carries very positive effects. Over the years through a variety of studies and news reports we've learned how journaling can improve emotional and physical health. According to Kathleen Adams, LPC, RPT in an article for The Center for Journal Therapy, "life-based writing is one of the most reliable and effective ways to heal, change and grow."
Coaching Sanctuary feels so strongly about the benefits of Journaling that they created an Online Journal as a focal point in their new comprehensive interactive online Life Coaching application and starting today, October 19th, will offer it for free. Coaching Sanctuary encourages users to journal about everything from personal goals to the impact a particular event had on them, the activities of their day and how they are feeling in the moment.
"We feel everyone should have access to a secure, comfortable place where they can capture their thoughts, feelings and experiences and reflect on them," said Coaching Sanctuary co-creator, Bettina Jetter. "With the increasing draw of communicating personal thoughts online via social applications like Facebook and Twitter, we saw the importance of providing a convenient, online portal where people could still do this, but with an element of total privacy."
Free Online Journal Features / Benefits:
•A place to capture thoughts, feelings, and experiences as users move through the transformation process
•Inspiring quotes, words and images help jump start journal writing and a timeline provides for reflection on previous entries; a handwritten font personalizes the process
•Users can easily upload photos with every entry via a smart phone or computer to create inspirations or long-lasting memories and personalize their Journal
•A filmstrip displays all photos associated with the Journal and allows users to simply click on a specific photo to view its associated entry
•An interactive timeline helps users find and browse entries in an instant and displays the total number made during the week; the timeline is organized by the four seasons, reflecting on the importance of the seasons' influence on the body, mind and spirit
•Extra layers of security matched with individual password protected user accounts provide total privacy and a sense of peace and comfort during use
•User-friendly application is easy to navigate and suitable for all levels of computer experience; includes customer support and is free of disruptive advertising and pop ups
In a Q&A featured on his website titled "Writing to Ease Stress," renowned health guru, Dr. Andrew Weil states that "'therapeutic journaling' or 'expressive writing,' the terms used to describe the writing you do as a means of dealing with stress, pain or chronic disease can help a lot," in addition to noting studies where journaling led to "improved relationships, greater personal strength, spiritual development and an increased appreciation for life."
Coaching Sanctuary helps members discover their life's purpose, create the life they want with integrity and intention and ultimately live with more joy and fulfillment through self-growth and personal transformation. In addition to journal-writing, the application provides other easy-to-use tools that focus on everything from goal-setting and tracking to visualization, peer-collaboration and more, including a personalized self-guided transformational program featuring the introduction level of the "Spiral Up Process" from Wendy Wallbridge.
In addition to the free Online Journal, Coaching Sanctuary features monthly subscriptions for use of other tools starting at $9.95. Subscriptions are always flexible and can be upgraded, downgraded or suspended at any time. For more information about Coaching Sanctuary and/or to request an interview with Bettina Jetter, please contact Kaity Ocean at Kaity(at)ocean-pr(dot)com or 775-787-9257.
About Coaching Sanctuary
Coaching Sanctuary is the creation of Bettina and Mike Jetter, and came to fruition as part of a series of projects resulting from Mike's diagnosis of Leukemia and the couple's realization that life is finite and time is precious. Throughout the process of Mike's illness and recovery and experiencing numerous life transitions, the Jetters discovered that positive change must come from within and decided they wanted to create meaningful products that positively impact people's lives. Coaching Sanctuary is a space where people can experience that change in the way they work, think and live day-to-day. It has been awarded the 2010 Webaward for Outstanding Website in the category of Health Care and Outstanding Achievement in Website Development by the 2010 Interactive Media Awards.
Prior to creating Coaching Sanctuary, the Jetters invented Mindjet, a technology company designed to make a significant difference in the way people use their computers to produce results, along with its flagship product MindManager, the leading application for mind-mapping and visual collaboration worldwide. Following Mindjet's launch and successful growth, the Jetters co-authored an inspirational book, The Cancer Code - How a Journey Through Leukemia Led to a Software that Changed the Way People Work. Their story has been featured in the Wall Street Journal and the Financial Times among other press. In 2004, the Jetters received Ernst & Young's Entrepreneur of the Year Award for Information Technology in Germany.
# # #