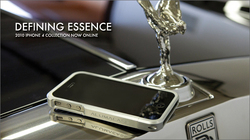 "We've added affordability on top of that, so any iPhone user can buy a stylish, durable, and smartly designed case that works with his or her lifestyle."
San Jose, CA (PRWEB) October 19, 2010
San Jose-based Alumacase announced today the launch of its new designer aluminum iPhone 4 cases, along with the opening of its website and online store (http://www.alumacase.com). The high-grade aluminum designer iPhone cases represent a revolution for iPhone users, providing them with an unprecedented combination of sophisticated design and quality manufacturing for absolute durability. While the market is filled with iPhone 4 cases, nothing currently available to consumers matches the quality of form and function from Alumacase's products.
"Our company was founded on the philosophy that precision and luxury can go hand in hand," says Raymond Yee, President of Alumacase. "We've added affordability on top of that, so any iPhone user can buy a stylish, durable, and smartly designed case that works with his or her lifestyle."
Manufactured from the highest-quality aircraft-grade 6061 aluminum, each Alumacase product gives the iPhone an elegant feel and a sophisticated look. Alumacase iPhone cases utilize advanced engineering to ensure that the actual case only contacts the outer edge of the glass; this prevents actively closing the circuit upon human touch -- an effect that leads to signal degradation. In addition, the inner lining of Alumacase iPhone cases suspends the stainless antenna in an air cushion to eliminate physical human contact.
"We've spent countless hours fine-tuning the Alumacase design," says Yee. "The end result is a functional design within the stylish aluminum exterior that ensures signal quality and won't interfere with the iPhone's hardware."
Engineered in the United States, Alumacase's aluminum iPhone cases are designed to work seamlessly with the entire range of iPhone 4 aftermarket products, from earphones, docks, and chargers to Invisible Shields and screen protectors. The cases come in a range of colors, including Palladium Silver, Deep-sea Blue, Rosy Pink, and Absolute Yellow, all priced at $59.95. In addition to high-end designer aluminum cases, Alumacase also offers carbon fiber backings across various colors for $15.95 each, and further products are in development.
"The launch of the Alumacase website and online store is just our first step," says Yee. "We'll soon have announcements regarding retail and re-seller distribution to keep up with our immense pre-launch demand, along with new products that go even further."
Alumacase products ship to 178 countries worldwide and are available now on Alumacase's online store at http://www.alumacase.com. For media inquiries and review versions of Alumacase products, contact sales@alumacase.com.
About Alumacase
For more than 15 years, the talent behind Alumacase has taken the ordinary and made it extraordinary by coupling design, style, technology, and passion into a singular focus that defines new trends. Using the highest quality materials and cutting-edge design, Alumacase's commitment to intelligently crafted products give users the ability to truly express their individuality while protecting their most vital communication devices.
###