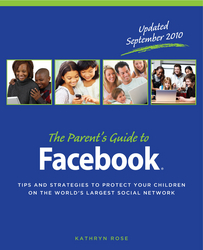 "It's just as important for parents to understand what goes on in this online playground as it is to watch out for their kids in the neighborhood park," says Kathryn Rose, Certified Online Mom,Social Media Author and Trainer
Norwalk, CT (PRWEB) October 18, 2010
Kathryn Rose, author of the original Facebook Guide for Parents, announces the release of her latest book The Parent's Guide to Facebook: Tips and Strategies to Protect Your Children on the World's Largest Social Network. This new book contains all of the Facebook privacy changes and the addition of Facebook's "Places" feature. Both of these new updates to Facebook are essential for parents to become aware of. "Since October is National Anti-Bullying Month, I felt it appropriate to release the new updated version of my original book, as Facebook is the world's largest social network and is a platform for much of the bullying," says Kathryn Rose.
With more than 500 million users, Facebook is a social force unlike anything parents have faced before. While technology has created a worldwide playground, it has also opened the floodgates of risk to lack of privacy, personal exposure, cyber bullying, predators and a false sense of security. Understanding the pleasures and risks will help parents monitor as well as participate in this arena of their children's lives.
"It's just as important for parents to understand what goes on in this online playground as it is to watch out for their kids in the neighborhood park," said Rose.
The Parent's Guide to Facebook guides parents through the set up, privacy settings, and provides an understanding of the language and etiquette of Facebook. This guide will give parents the tools and confidence to join the social conversation, help their children stay safe, and connect with other parents for fun, parenting support and most importantly do what they can to stop bullying.
"Most parents of teenagers did not grow up with the internet, making understanding and acceptance sometimes difficult," adds Rose. "However, parents cannot throw up their hands. By using this guide, parent's can learn quickly and easily all of the steps they need to learn about Facebook and coach their kids toward responsible usage and behavior."
The Parent's Guide to Facebook: Tips and Strategies to Protect Your Children on the World's Largest Social Network will:

Give parents step-by-step instructions on how to to set up their Facebook profile
Lead parents through the Facebook privacy settings and show them exactly how to keep their most private information from the entire internet.
Reveal the top things every parent needs to know about Facebook.
Show parents how to report bullying and how to block bullies from posting on your child's wall.
Reveal the dangers of NOT educating your child on appropriate posting.
Reveal the simple errors that could expose users to identity theft and show them how to avoid making them.
Share the fun, friendship and social engagement available to Facebook users who know how to enjoy themselves safely.
Explain the new Facebook "Places" feature and how to protect user's privacy.
The Parent's Guide to Facebook is now available at amazon.com
About Kathryn Rose. Ms Rose is a Certified Online Mom, certified Social Media strategist and trainer, specializing in integration of new technologies in marketing strategies, Search Engine Optimization (SEO), Mobile Marketing and Social Media development and training to help clients maximize their visibility online. She is a frequent speaker and trainer on social media marketing as well as topics relating to online safety for school systems and parents groups. Kathryn is currently the Managing Director of EMP Social an Essential Media Partners company whose clients include: The NOW Guide, The NOW Pass DC, Hard Rock Café, Smithsonian, Super Bowl XLV. EMP Social provides Social Media Optimization and Marketing solutions for organizations of all sizes. Kathryn is the author of the original Facebook Guide for Parents, Facebook Guide for Grandparents and The Beginner's Guide to Facebook for Business.
###