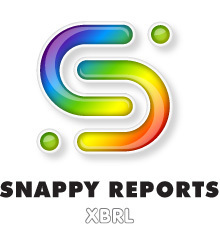 We thought XBRL was complex. Snappy Reports makes sense out of XBRL.
Kirkland, WA (PRWEB) October 18, 2010
Snappy Reports, a pioneer in XBRL technology releases version 3.8 with a lengthy list of features. We designed 3.8 for rapid deployment of filings. Recognizing that time is money, version 3.8 provides for completion of new mapping in less than a week – subsequent use in one day or less. We designed Snappy Reports XBRL with filers in mind who need to get things done quickly and often require last minute changes.
Reduced Instruction set XBRL means the achievement of great results with fewer operations. Snappy Reports handles checks and validations. It minimizes the ability to make mistakes, resulting in error free filings in less time.
Communication is important. Being able to communicate with clients and peers as to the status and content of filings as they proceed is imperative. Snappy Reports XBRL 3.8 provides the easy to understand reports needed to communicate with clients and peers. Snappy Reports goal is to take care of lots of details so the filing preparer does not have to..
Details like, text blocking, table blocking and detail tagging, negation and negated labels, dimensions and the statement of shareholders equity (parentheticals) and reports that are the final result of the process are details Snappy Reports takes care of.
Snappy Reports XBRL supports the US-GAAP with Form 10-K, Form 10-Q and Mutual Funds N-1A and the IFRS.
Features include:

Three Options for Generating Report Templates:
o The ability to auto generate report templates from spreadsheets.
o Start with templates provided by the US-GAAP - then reduce down to what is used.
o Start from a blank report and place elements as desired.

Easily handle negated labels and fact reversal.
Reusability ... reusability. Map once and you are done. Mappings transfer to subsequent filings.
Read and write Excel spreadsheets.
Retain formatted tables with a simple drag and drop operation. This retains the formatting in source documents without requiring any html editing.
Validation for consistency checks that clearly shows if calculation arcs do not match mapped totals.
Full XBRL dimension support. The Statement of Shareholder Equity is made easy.
Detail tagging support.
Fast searching for easy mapping.
Extended elements are made simple. Series and Classes for mutual funds can be created quick and easy. Creating extended elements for financial reports takes seconds.
Snappy Reports XBRL filings looks great in the SEC Previewer. Peers and clients will be happy.
Please Contact: info(at)snappyreports(dot)com Snappy Reports XBRL
###