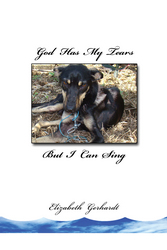 Topeka, KS (Vocus) October 17, 2010
God Has My Tears But I Can Sing, a new book by Elizabeth Gerhardt, has been released by RoseDog Books.
The author explores a variety of subjects, from life's realities to dreamlike fantasies, using vivid descriptions, thoughtful musings, and stories, both real and imagined. Meet all kinds of people: neighbors, scheming exes, melodic choral singers, an evil psychopath, soulmates hanging around through eternity, adventure-seeking chat room seniors, and one old grouch. An animal lover, she introduces patient, abandoned, dumpster-diving dogs and one dog-stalking cat. No shortage of passionate lovers: I taste from your body/the mead of a thousand honeyed lips. . . A recurring theme of optimism, as the title implies, and a smorgasbord of entertaining verses from how to eat grits to the surrealistic shimmer on a Kansas road.
Gerhardt, a former folk singer, software engineer, and system designer, is originally from New York and has lived all over the United States, including Hawaii, Atlanta, Wyoming, Spring Hill, and St. Augustine, Florida. She holds a B.A. in psychology from Flagler College and an M.S. in human factors and systems from Embry Riddle Aeronautical University. Her interests have included choral singing and raising Alaskan malamutes. She lives in the mountains of western Panama, where she writes about her adventures with her two rescues, a Newfoundland/border collie mix and a pure Panamanian street dog. This is her second published book.
God Has My Tears But I Can Sing is a 56-page paperback with a retail price of $10.00. The ISBN is 978-1-4349-9964-1. It was published by RoseDog Books of Pittsburgh, Pennsylvania. For more information or to request a review copy, please visit our virtual pressroom at http://www.rosedog.com/pressroom or our online bookstore at http://www.rosedogbookstore.com.
###