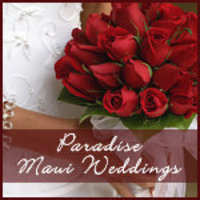 Name your price, and Let Paradise Maui Weddings Pick the Date
Lapeer, MI (PRWEB) October 20, 2010
Rest assured, they do not "nickel and dime you"... if it's reasonable, you got yourself a wedding! This is why Paradise [Maui Weddings has "Name your own price" in place. It may just give you the Hawaii wedding package at a cost that is within your budget. It's a win-win situation. They let YOU get your wedding within your budget and Paradise Maui Weddings fills available dates on their calendar.
The company requests that there be no phone calls, all offers have to be completed on-line only. Name your own price requires a certain amount of flexibility but will save you an average of 20%. So, if you really don't mind as long as you get a good deal! Now is the time to bid on Maui Weddings! While Saturday is still the most popular day for Paradise Maui Weddings, the weekends are no longer the only times that couples get married. There can be many good reasons to have a weekday wedding.
Maybe the venue you like is booked on every Saturday and Sunday from now until 2015, but Paradise Maui Weddings can fit you in on a Thursday evening. Perhaps you have your eye on a location which is a little out of your price range, but you can get a weekday discount that will make it affordable. Now is the time to bid on Maui Weddings.
Honoring a special date is another popular reason to have a mid-week wedding, whether it is the anniversary of when you met, or your flight is less expensive. These are all excellent reasons to consider having a non-weekend wedding.
How it works...
1. Complete their reservation and Name your own price. Pick your favorite Maui wedding package that you would like for your wedding as described with no extras, enter your offer and they will pick a date within the week of your choice or your preferred date. You decide how much you want to pay for your wedding. Reservation takes less than 3 minutes.
2. "Like" Paradise Maui Weddings
Receive a complimentary bouquet for your ceremony just by clicking the "LIKE" button on Paradise Maui Weddings Facebook Page, it's that easy!
3. Confirm your offer with a deposit or full payment
This company requests that you make the minimum deposit required for your wedding or pay in full. We will either accept or refund your payment by next business day.
Let others know how much you Like Paradise Maui Weddings, "Name your price and let us pick the date", and receive a complimentary bouquet for your ceremony! Just look for Paradise Maui Weddings on Facebook.
"Like" Paradise Maui Weddings on Facebook!
http://www.paradisemaui.com/weddings/company/offer/index.html
Visit Paradise Maui Weddings website for more information
http://www.paradisemaui.com/weddings/index.html
Maui Hawaii weddings packages
http://www.paradisemaui.com/weddings/wedding_packages.html
###